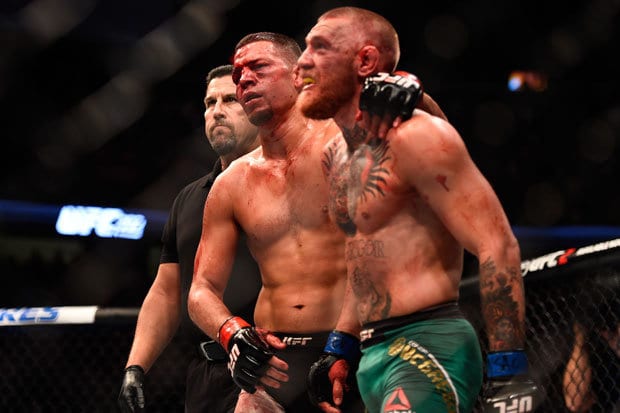 Together, Conor McGregor and Nate Diaz put on two of the biggest fights in fighting history.
Throughout 2016, the duo were involved in the biggest stories of the year, with Diaz facing McGregor as a late notice replacement for UFC lightweight champion Rafael Dos Anjos and winning the first affair, while McGregor went on to win the rematch just a few months later. Such was the attention and excitement that surrounded the brace of fights, that to this day, fans talk about a future rubber match as if it's a certainty.
Since their last meeting, the two have spent their time rather differently.
McGregor went on to face Eddie Alvarez for the UFC lightweight title, winning and becoming the only man in UFC history to hold two belts at once. Following that, he met Floyd Mayweather in a sporting spectacle last year. Diaz, on the other hand, has been away from the spotlight, seemingly refusing a return to fighting.
Until now.
Last month, Diaz posted to his social media that he was eyeing a return to competition, citing a boredness with sitting on the sidelines. Immediately, speculation grew as to who Diaz would be matched up with on his comeback, with names like Eddie Alvarez, Tony Ferguson and Kevin Lee being brought up.
And while it seems UFC welterweight champion Tyron Woodley is the man Diaz has his heart set on, a Diaz comeback does once again spark the conversation about a third meeting between him and McGregor.
Ask Diaz himself, however, and he'll tell you he's uninterested in what his old foes been up to since they last traded blows. Speaking with ESPN, Diaz was reportedly asked about McGregor's recent activity, and while Diaz didn't have much to say, he did appear to notice how hectic the Irishman's life has become.
"He's just living his life right now and he's got a magnifying glass on him, whatever he's doing," Diaz said. "I don't give a fuck what he does. I'm sure he's up and down. 'Do I want to be in these lights? Why am I not in these lights? I need to get in the lights. I need to get out of the lights.' It's a crazy roller coaster."
Comments
comments