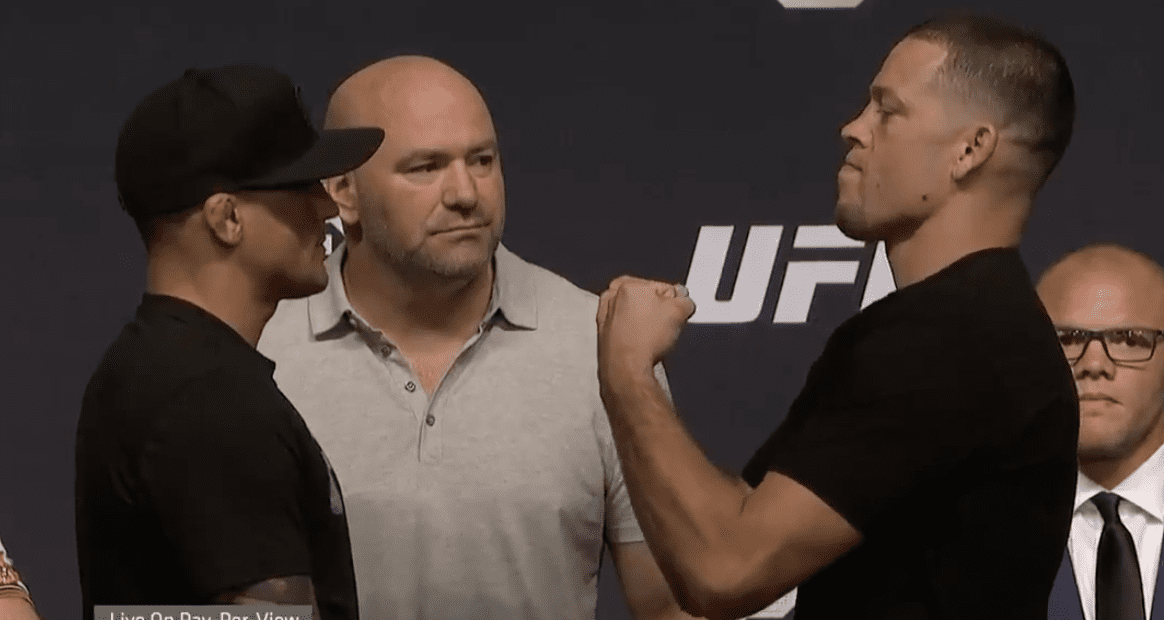 At a press conference in Los Angeles today, Nate Diaz reminded fans just why they missed him so much.
Showing up around fifteen minutes late to a raucous reception, Diaz squared off with November 3 opponent Dustin Poirier before taking his seat and taking questions from the media. And, after not competing since his loss to Conor McGregor at UFC 202, the first question was just why it was Poirier who brought him out of sabbatical.
Simple question, simple answer.
"It's time to go, so it's time to go," Diaz said. "This is a championship fight right here. Since my last fight, I was in lawsuit, so I wasn't eligible to fight. I don't know why nobody told you guys that."
He's back!!@NateDiaz209 faces @DustinPoirier at #UFC230!! pic.twitter.com/gjTiPVGnsB

— UFC Europe (@UFCEurope) August 3, 2018
But, if all seemed right with the world, Diaz was quick to change things up. Moments after the Stockton fighter left the stage, he took to his social media to suddenly announce he was not fighting on the November 3 date.
I'm not fighting on that show fuk the @ufc

— Nathan Diaz (@NateDiaz209) August 3, 2018
Nate Diaz is not especially happy pic.twitter.com/Ul87o76HAg

— Danny Austin (@DannyAustin_9) August 3, 2018
Evidentally, Dustin Poirier felt similar.
I ain't fighting on that show either F the ufc

— The Diamond (@DustinPoirier) August 3, 2018
–
Comments
comments