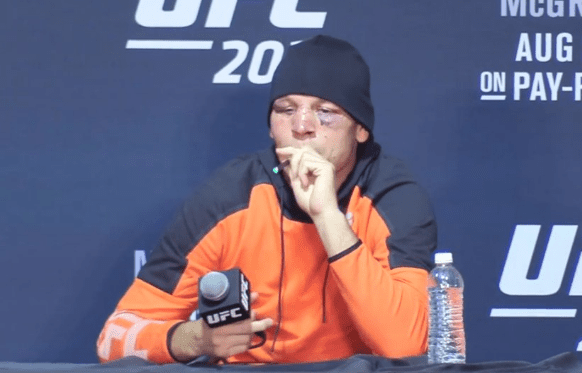 Well that didn't take long. Just two days after UFC president Dana White stated that he and his promotion had offered Nate Diaz a number of contests only for the Stockton native to turn them down, Diaz has offered a simple, but effective, rebuttal.
Speaking about the possibility of a Diaz vs. Tyron Woodley fight at the end of the year for Woodley's welterweight title, White simply said that the younger Diaz brother apparently had no interest in a return just yet.
"Nate Diaz turned down a fight with everybody on the roster," White said, speaking to media at a lunch on Tuesday (via MMAJunkie). "We've been offering him fights for — when was the last time he fought, a year and a half ago? For a year and a half we've been offering him fights. As a promoter, we have to offer him fights. Because we're supposed to give him three fights a year. So we continuously offer him fights, and he continuously turns them down."
Along with that, Woodley himself has appeared to have been irked by the situation. Having ignored an apparent injury in order to accept the fight, Woodley has been training for nothing now any contest with Diaz is off the table. Speaking with MMAFighting yesterday, Woodley laid blame at the door of the UFC, stating they should have offered more money to make the bout happen.
"Delusional Dana constantly demotes me as a fighter when the job is to promote his fighters, especially champions," Woodley said. "Why would I get in camp, and why would Nate give a 15 million dollar purse request if there was no fight? It's obvious they haven't found their blockbuster headliner yet. This was a reality, and they know it. The inability to come to financial terms with Nate killed it."
Now, Diaz himself has entered into the conversation — albeit with a rather brief statement.
Posting a clip of White's interview to his Instagram, Diaz simply captioned it "Shutup bitch. Your both thirsty……"
Good to know that no amount of time out of the cage will ever mellow Diaz out to the point of conformity.
Comments
comments