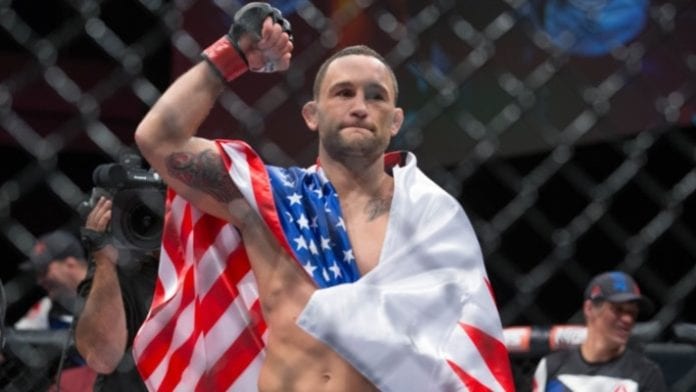 Throughout 28 fights and 13 years, just three men have been able to beat Frankie Edgar in his professional mixed martial arts career.
Unfortunately for Edgar, the four most recent of those — two apiece to José Aldo and Benson Henderson — have all occurred in UFC title fights, meaning that 'The Answer' hasn't been able to call himself a world champion since he last successfully defended the UFC lightweight title against Gray Maynard in late 2011. Following the second of two defeats to Henderson, Edgar dropped to featherweight and was awarded with an ultimately unsuccessful immediate title shot against José Aldo.
This weekend Edgar was slated to challenge Max Holloway for the UFC's featherweight title, the first time he would have competed for the strap against someone not named José Aldo until he was ruled out via injury three weeks ago and replaced atop the card by his old Brazilian foe. While defeating Holloway is anything but an easy proposition, it would have afforded Edgar the opportunity to challenge for the title opposite someone who he didn't already have a loss to on his record.
A cracked orbital bone was the reason for postponing the bout and, speaking to the media during the UFC 218 fight week in Detroit, UFC president Dana White questioned the nature of 'The Answer's' injury.
"My question for Frankie – and I haven't talked to Frankie yet, Frankie is in Russia or something right now, I think – but how do you break your orbital in training? Unless it was a freak knee to the eye in wrestling or something like that," White said as reported by MMAJunkie.
"Who's hitting you that hard in your training camp that you break your orbital? That's insane. Anybody know the answer to that question?"
Should Aldo prove successful this weekend and regain the title he captured from Holloway in the summer, that would leave Edgar the presumptive top contender once more for featherweight gold but would find himself in the situation of having to challenge the Brazilian featherweight legend for a third time after failing to defeat him in the 10 rounds and 50 minutes that they have already spent together in the Octagon.
Despite usually not being a fan of fights dropping off events, White said that Aldo's inclusion on this weekend's card has seen an upturn in sales.
"You know what's funny? So, the Detroit show is on par to sell out," White explained. "We're selling out. The show's going to be a sellout. You know when you're going to sell out because of how many tickets you have left and how many days. We put José Aldo on the card, and…. Tickets. Yeah.
"We're going to find out how hungry Jose Aldo is and how bad he wants that belt back. He's getting this opportunity because Frankie fell out. Life is all about jumping on those opportunities. I actually liked it that Aldo wanted this fight like that. It's awesome. I'm excited. I'm excited for that fight."
Comments
comments