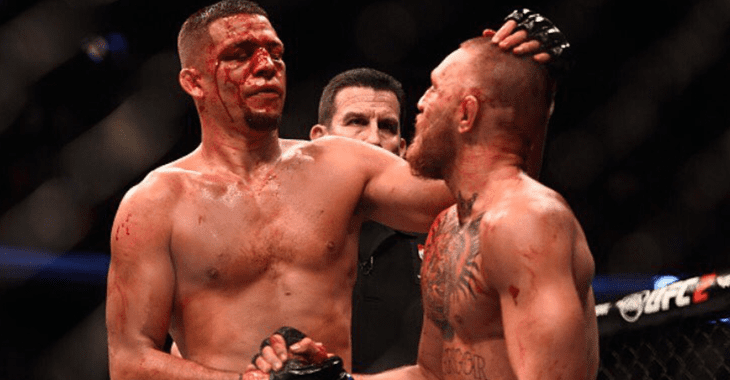 Nate Diaz and Conor McGregor may have been involved in one of the biggest rivalries in MMA history, but don't expect the Stockton native to not give credit where it's due.
Just eight days away from the biggest boxing fight in history, some attention has been drawn to various high profile boxers poking fun at McGregor's patented warm-ups.
And while McGregor has remained completely unfazed — instead using interviews to point out how poorly the boxers in question were actually doing the work outs) — McGregor's old MMA foe Diaz has found himself riled up by the continued disrespect boxers have been showing McGregor since before the fight was even announced. Particularly when it comes to the suggestion McGregor could be embarrassed on August 26.
"And now all the boxers are criticising Conor like 'Conor will get embarrassed', but that's a real arrogant thing to say," Diaz said in an interview with Ariel Helwani earlier this year. "…Wanna know something that's even more embarrassing? Is if Floyd fought Conor in a MMA match. Would be more embarrassing than if Conor fought Floyd in a boxing match. [Floyd] would get mounted and laughed at, and slapped around [and Conor] would smile at the crowd and wave."
But what appeared to really get under the younger Diaz brother's skin is the nature of boxers taking shots at McGregor before he's even stepped through the ring ropes — especially since none appear ready to get into the Octagon for a much less limited form of combat.
"Boxers are clowns sometimes now," Diaz said. "I'm never taking the MMA fighters over the boxer's side when it comes to punching and shit, but I'm like don't be talking shit. [They say MMA fighter's] 'would get embarrassed, it's ridiculous' yeah, but we're talking real fighting now you one-dimensional boxing fucks. This is real life shit, you'll get embarrassed."
Correction: An earlier version of this article mistakenly stated this was a recently conducted interview, and attributed it incorrectly.
Comments
comments