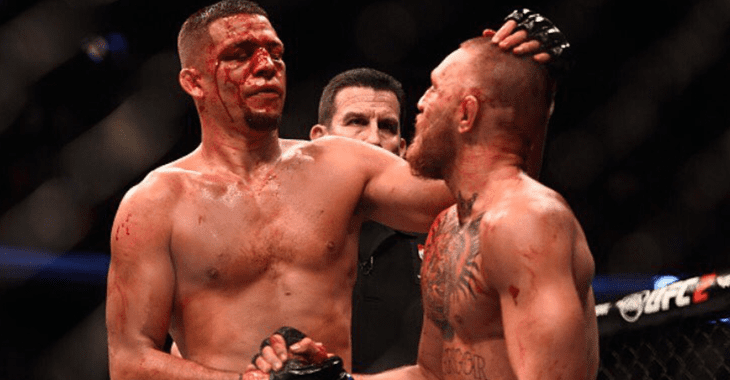 In 2016, Nate Diaz and Conor McGregor took part in one of mixed martial arts' greatest rivalries, trading wins over the course of two phenomenal fights. Ever since their second contest, an epic five round war, the idea of a rubber match has never been too far from the conversation.
While McGregor's never shied away from the fact he would welcome a third contest, once speaking of his desire to repay Diaz for agreeing to a rematch, Diaz himself has been a bit more coy on the subject, especially with his prolonged absence from the sport since their second scrap.
Now though, with Diaz returning to the Octagon this Saturday, it seems the man from Stockton is seeing few options amongst the landscape at 155 and 170 pounds for him to get excited about fighting except his old Irish rival.
"I feel like I'm just better and cooler than those guys," Diaz said of champions Kamaru Usman and Khabib Nurmagomedov, speaking with Brett Okamoto of ESPN. "The hell do I want to fight them for? [Anthony] Pettis is cooler than both of them, fight wise. Remember Street Fighter? 'I wanna see that fucker versus that guy. Or just at school, when you knew two dudes who kicked ass, and you were like, 'I wonder what would happen if them fools fought.' That's when I think about the outside perspective too, if I was somebody wanting to watch me fight in the UFC, I would want to watch me fucking fight Conor or Pettis or… Masvidal just did his thing the other day. That was great. Stuff like that, with all due respect, motivates you to want to fight that person, 'cos they've done some great shit. Stick that in my bag of great shit.
"That's why you starting fighting and fight for in the first place right? Fight the best fighters, the coolest fighters? That's the sport I signed for when I signed up."
So can he guarantee he'll fight again more regularly now he's back in the mix? Not exactly, but Diaz is willing to say he believes a third fight with McGregor will happen and that it's one of the very few match ups he's open to entertaining right now.
"Time will tell," Diaz said. "I'm sure, probably. It's about timing. If everything lines up, that's the only guy I'll fight right now, is those two [Conor and Khabib]."
–
Comments
comments