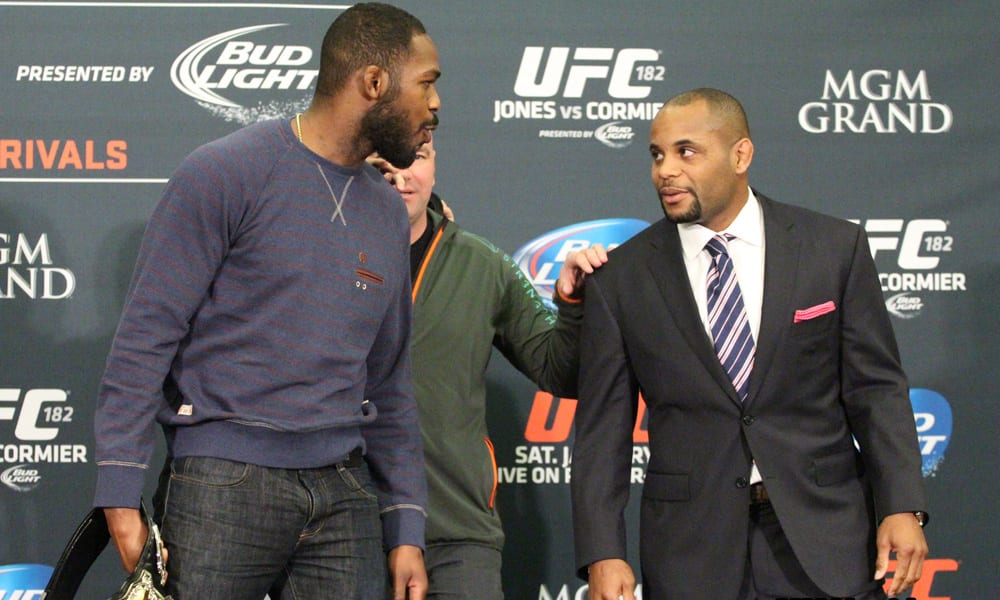 When Daniel Cormier steps into the UFC Octagon this Saturday against Stipe Miocic, the heavyweight champion maintains he's not looking at anything past that moment.
For everyone watching who's willing to pick Cormier as the winner this weekend, the talk is already well underway about who's next, and it's a name Cormier's heard time and time again. UFC light heavyweight champion, and general Cormier nemesis, Jon Jones.
Ever since Jones returned from his suspension last year, the pair have been linked together for a third fight. With Cormier winning the heavyweight championship, and Jones defeating all obvious competition at 205 pounds, it seemed to make sense. Ever since Cormier's arrival in the UFC, the two men have been constantly linked to each other, and with Cormier's days in the sport quickly coming to an end, fans want to see the duo go at it one last time.
The only question is at what weight?
UFC president Dana White has said publicly he'd rather see them fight at heavyweight, with Cormier's performance perhaps not hindered by such a drastic weight cut at 40 years of age. In fact, most pundits have agreed the clash taking place a division higher would add the necessary spice to truly get fans excited.
Two people who aren't on board with that idea? Cormier and Jones themselves.
Both men have stated that if there were to be a third fight, it would have to take place at 205 pounds. For Jones, it's apparently because he has no interest in moving up when he continues to rule light heavyweight so comfortably. For Cormier, it's because the fight was lost at the weight it was lost at. To change the dynamics would be admitting a level of defeat before the bell even rung.
But while Cormier continues to say he'll move down if there's a third contest, Jones isn't sold.
The champion took to social media today to scoff at the idea Cormier would ever consider the weight loss again, and refuted Cormier's claims it would ever happen.
"I've been the light heavyweight champion for almost my entire MMA career, never have I moved up to challenge a heavyweight champion. I'm simply not interested in it right now, never seriously have been," Jones wrote. "I feel like the move is inevitable but as of right now, I'm dominating fights and making weight just fine. Daniels and I not reverie, but beef started at the light heavyweight division and that's where it should end.(even though I could've sworn I ended this once or twice already).
"Despite what he says to the media, I will guarantee you guys there will be no third fight. No way will he lose that weight again, no way will he be willing to reface those nightmares that comes when facing the beast."
I've been the light heavyweight champion for almost my entire MMA career, never have I moved up to challenge a heavyweight champion. I'm simply not interested in it right now, never seriously have been.

— Jon Bones Jones (@JonnyBones) August 12, 2019
I feel like the move is inevitable but as of right now, Im dominating fights and making weight just fine. Daniels and I not reverie, but beef started at the light heavyweight division and that's where it should end.(even though I could've sworn I ended this once or twice already)

— Jon Bones Jones (@JonnyBones) August 12, 2019
Despite what he says to the media, I will guarantee you guys there will be no third fight. No way will he lose that weight again, no way will he be willing to reface those nightmares that comes when facing the beast.

— Jon Bones Jones (@JonnyBones) August 12, 2019
–
Comments
comments