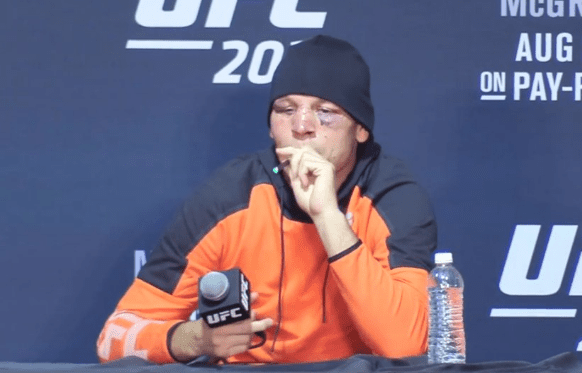 It has been almost two years since Nate Diaz has set foot in the octagon but recent footage published by TMZ appears to suggests that his competitive spirit is still alive.
The footage, which you can see below, appears to show the Stockton native throw at least one punch in a fracas which took place at the Fight To Win Pro 77 grappling competition in Sacramento, California last Friday.
Diaz was in attendance to support students of his who were participating in the event. It is not clear what caused the incident but reports suggest that no arrests were made after its conclusion.
Seth Daniels, CEO of Fight To Win, said to The Mac Life: "Not really sure the extent of what happened I just know Nate was knuckled up and a dudes face was bloody, I'm assuming a jack ass in the crowd was talking shit and started it with Nate and got hit.
"Nate is super nice and cool it was definitely provoked."
This occurs after reports which suggested that Diaz was involved in a brawl with fellow UFC fighter Clay Guida at a Combate Americas event last month which is said to have left Guida with a bloody lip after he was pushed into a guardrail.
Nate Diaz has not competed in the UFC since a decision defeat to Conor McGregor at UFC 202 in Las Vegas in August of 2016.
–
Comments
comments