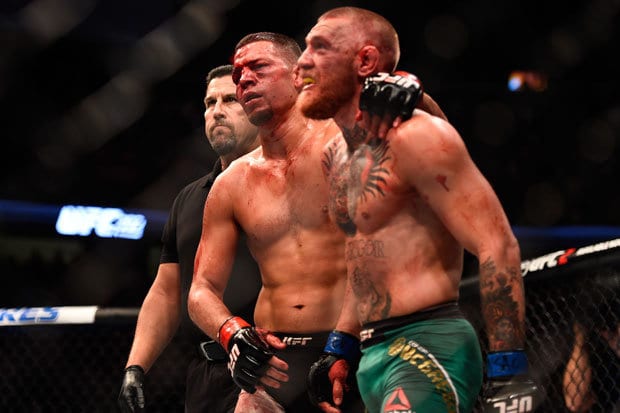 Nate Diaz hasn't competed in the UFC since losing a decision to Conor McGregor in their rematch at UFC 202 more than a year ago. In the intervening period, it has begun to look less and less likely that a return is imminent, particularly as his pay demands are reported to be in the region of $15 million to sign a bout agreement, a fee which would be — by a long shot — the largest sum ever afforded to a mixed martial artist.
Diaz earned a (declared) total of $2.5 million, excluding bonuses etc., for his two bouts with McGregor in 2016, both of which proved to be huge successes at the box office but questions still remain as to his selling power against fighters other than the Irishman.
However, Diaz is unwilling to bend his demands too much ahead of a prospective return to the sport and confirmed to the Outside the Box podcast (via Bloody Elbow) that he is more than willing to resume his fight career — so long as he receives a worthwhile offer.
"I'll fight whenever the f—k I wanna fight," Diaz said. "That's because I'm a G, n****, I'm a fighter myself. I ain't trying to do what nobody says, I do what I say. And I will fight when I'm approached respectably.
"I already fought more than everybody in the UFC," he added. "Everyone in the UFC except Randy Couture, Tito Ortiz, B.J. Penn, Michael Bisping – he has actually done a lot. I have more fights than anyone on the roster. In the whole roster. (I've been fighting) from 21 to 30 years old, and I've been slacking a few years, just chilling, fighting once a year. And I have the most 'of the Night' awards, the most Submission of the Night awards. I'm holding all the numbers, I'm the one who did all this stuff.
"I don't need to fight nobody. I'll fight anybody, but I don't need to fight anybody," Diaz continued. "You work for somebody; I work for me. Who's the fighter now, motherf—er?"
A third bout with Conor McGregor, this time perhaps at 155-pounds remains a possibility, though not an immediate one. Diaz confirmed that the UFC has spoken to him about rematching the Irishman once again, though any deal seems far off at the time of writing. Diaz though, has some advice ahead of any negotiations.
"Ask nicely, motherf—ers. Ask nicely. I'm talking about the organization, the fighters. And make it a big deal, because I'm not trying to just sign a contract just because it's a good idea for you guys."
Comments
comments