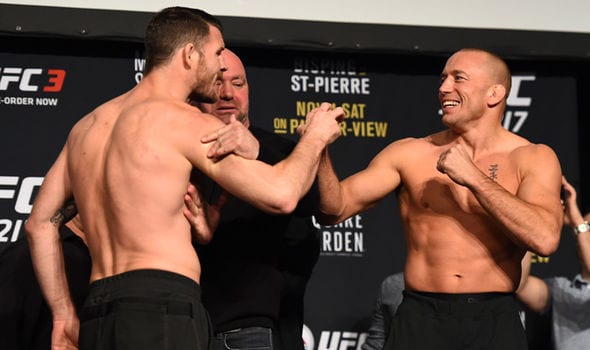 A few short weeks ago Michael Bisping was the UFC's reigning middleweight champion and was standing on the eve of a main event on the UFC's biggest card of the year in New York City. Today, he has two further losses on his record and the belt he held has been transposed to the waist of Robert Whittaker following Georges St-Pierre's decision to vacate the championship.
St-Pierre's decision to vacate the title hasn't been welcomed by the former champion who, on his Believe You Me podcast, described the Canadian legend's decision as "a bit of a bitch move."
"He's a prick," said Bisping of St-Pierre's move back to the welterweight division as quoted by MMA Fighting. "He's a prick, god bless him."
St-Pierre defeated Bisping by third round rear naked choke 6 weeks ago inside Madison Square Garden to become the UFC's newest two-division champion. Just three weeks alter, Bisping fought again in Shanghai where he was knocked out by Kelvin Gastelum.
"I'm gonna be brutally honest here, it's a double-edged sword. It's a good thing and a bad thing. By the way, Dana White threw me under the bus when he first found out. He wasn't happy with Georges and he said, 'Yeah, well he cherry-picked Bisping.' That doesn't do me any favors! He didn't cherry-pick me, but I did say that. I said Georges wanted to fight me because he thought I was an easy fight and this and that, and he got the win, and then he vacated the belt. Now he vacated the belt because apparently he had to go to the hospital after our fight and he thought he was gonna be paralyzed and he had a bad neck and all this type of stuff. I don't know. He just doesn't fancy doing it again.
"In one respect, it's good for me because – as an MMA fighter, as a boxer, whatever it is – if somebody beats you, you never want them to lose again because if they get beat, then the person that beat them, it has a negative impact on you. Like, 'Oh, they could have beaten me as well.' So he's never going to fight at 185 again, that's good. I'm the only person at 185 he ever beat, nobody at 185 is ever gonna beat him. So cheers Georges, thanks for that. But at the same time, it looks like a bit of a bitch move, you know what I mean? So there's pluses and negatives.
"Remember he said in the press conferences, he said if he lost he was never gonna try again and he was gonna retire. I don't know anything about Georges' bank account but I'm assuming it's pretty swollen, it's got plenty of money in there. So he came back, he got another belt, made history, made a ton of money, made more than me, the prick, and good for him. It's actually really smart. Why should he carry on fighting? Legacy is more important and he's got a great legacy there. So from a business standpoint, it's actually a really smart move. From the UFC's perspective, of course it's frustrating. It's annoying. Opens the doors for Whittaker versus Rockhold but it's annoying because remember, GSP did that after the Johny Hendricks fight. He didn't defend the belt, walked away, Dana was pissed then, and now he's doing the same thing now."
Bisping is expected to compete once more in the UFC and it is strongly rumoured that it will happen during the UFC's event in London next March.
Comments
comments