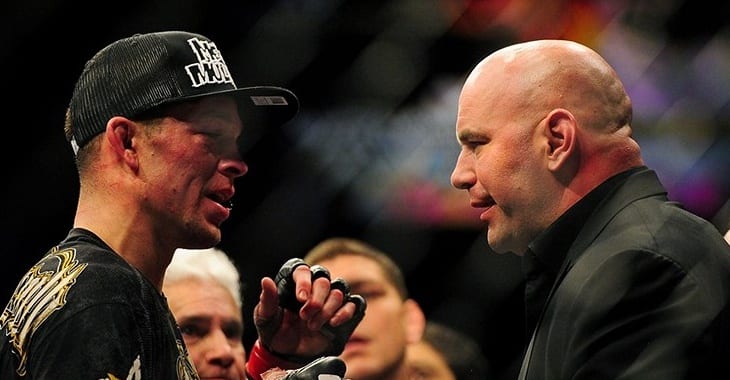 According to the man himself, Nate Diaz is heading back off into hiatus and isn't coming back until the rest of the UFC roster "mans up."
Diaz was set to face Dustin Poirier at the upcoming UFC 230 event until Poirier was forced to pull out with a long standing injury to his hip. With the UFC not finding another opponent, Diaz was taken from the event and once again heads to the sidelines.
And apparently, it's a place he'll be until he deems the rest of the UFC to be at a suitable level for him to return. Earlier today, Diaz took to social media to announce he was going back on tour after Poirier cancelled their fight with "no fans."
This guy mysteriously pulls out wit no injury and it's crickets from from the whole roster ?
I'm going back out on tour till the game mans up ..
Shoutout to @GamebredFighter hes down respect 💪🏼👊🏼 pic.twitter.com/r7HHF0sco0

— Nathan Diaz (@NateDiaz209) October 19, 2018
Unsurprisingly, Poirier took umbrage at the suggestion.

Tell the truth how you were playing games. Let's rebook it after my recovery. You're a ho

— The Diamond (@DustinPoirier) October 19, 2018
I see straight through that fake ass gangster shit bro. You fucking with a real one. Trust that @NateDiaz209

— The Diamond (@DustinPoirier) October 19, 2018
–
Comments
comments