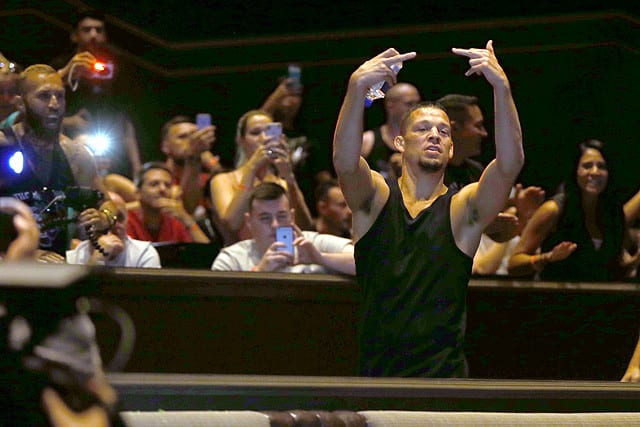 Nate Diaz has been punished for his role in the bottle throwing incident with Conor McGregor ahead of their rematch at UFC 202.
The Stockton native will pay 2.5% of his $2 million purse from the event, meaning $50,000. He will also have to carry out 50 hours of community service. Brett Okamoto first reported the news.
The fine, as fans will no doubt notice, is less than that of McGregor's, the other party involved. While this can be attributed to Diaz' payout for the event being less than the Irishman's reported $3 million, there are other complicated factors here.
While McGregor was ordered to pay $75,000 as a fine, he was also expected to pay another $75,000 towards a Nevada anti-bullying public safety announcement. McGregor too was handed 50 hours of community service.
Many had suspected Diaz would receive a harsher punishment for his involvement in the skirmish, as it had been he and his teammates who threw the water bottles first.
Recently, it had been reported that McGregor will be taking the NSAC to court over his punishment, and that he had not yet paid the fine issued. Diaz will not be taking such a route, as the matter was declared a settlement in the commission's announcement today.
Comments
comments