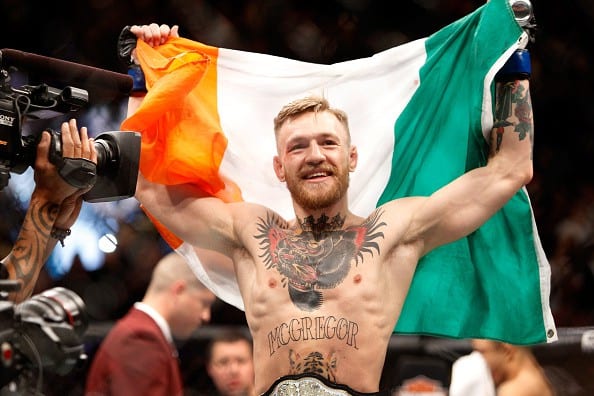 As Conor McGregor frequently proclaims during a Las Vegas fight week, 'The Irish are back!'
The trouble is that when it comes to the UFC coming back to Ireland, they haven't exactly been as committed. Just three events have been held in Ireland since the organisation's first trip to Ireland in 2009 (there was an event in Belfast, Northern Ireland in 2007 also).
The second event, in the summer of 2014, was one of the most successful UFC events in history. Headlined by Conor McGregor's return to action after a knee injury, his first-round finish of Diego Brandao put a significant cherry atop one of the most memorable cards imaginable. Every fighter with a connection to the Emerald Isle had their hand raised on the night in what was then The O2 Arena, setting a decibel level similar to that of a rock concert.
A little over a year later, the UFC announced another event in Ireland's capital to be headlined by a lightweight bout between Joe Duffy and Dustin Poirier and co-headlined by Ben Rothwell and Stipe Miocic. Both fights would fall foul to the injury bug, leaving a flyweight scrap between Paddy Holohan and Louis Smolka atop the card.
Since then, the UFC have been hesitant to announce another event. The newly-renamed 3 Arena holds only around 10,000 while the two massive outdoor stadiums Croke Park (82,300) and The Aviva (51,700) do not possess a roof to ward off the notoriously unreliable Irish weather.
Croke Park also brings with it a series of other organisational problems, given that the famous stadium has a tense arrangement for a limited number of events with the residents who live in its shadow.
Despite these potential obstacles, if there is one person who can wrangle the UFC's return to a stadium show in Ireland it is the man who dragged them back to Dublin in the first place, Conor McGregor.
Speaking at Thursday UFC 229 press conference at the Park Theater in Las Vegas, McGregor suggested that he won't hang up his gloves until he has at least one more opportunity to fight in front of his countrymen.
"That's what I said the other day. I mean, where is the Dublin fight? I know there's situations with the Croke Park stadium. We want to do big, big, big," McGregor said.
"But I'll tell you what. I'd fight in The Ringside, I'd fight in The Ringside on South Circular Road where I made my boxing debut and my MMA debut also.
"It's a pub and it fits about 50 people but I'd f**king fight it in it. You've got to ask these guys here, you've got to ask Dana and these guys here because I certainly must, must, must fight in Ireland before I call it a day."
Comments
comments