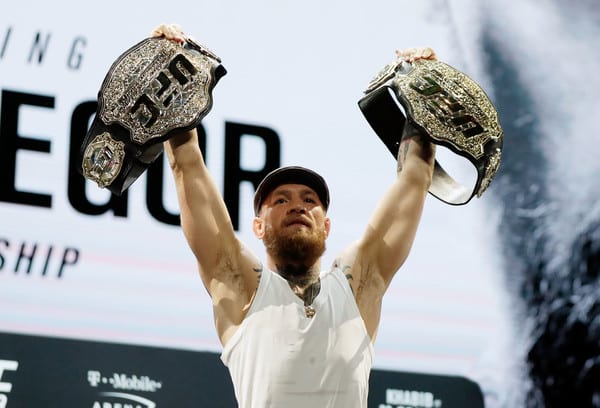 Despite being nearly two years out of the sport, Conor McGregor says that he expects his payslip for this weekend's UFC 229 main event opposite Khabib Nurmagomedov to be a a record-breaking one.
Speaking at the UFC 229 presser in Las Vegas on Thursday, McGregor and UFC president Dana White emphasised that the card is trending to be the most profitable in the quarter century history of the Ultimate Fighting Championship.
"The gate is going to be $17 million," White explained. "There are going to be celebrities like you've never seen. I knew this was going to be massive but it's even blowing me away what it's doing."
McGregor, though, has even loftier ambitions.
"We're estimating around 3 to 3.5 million (pay-per-view buys), I'd say I'll close in around the $50 million mark," McGregor told the Park Theater, which was noticeably energetic given the addition of fans in the arena, compared to the somewhat static affair in New York two weeks ago
"So for a mixed martial artist – to make $50 million in a mixed martial arts bout, it's quite breathtaking.
"To think where we have come from. When I fought Nate Diaz the first time, he was on $20,000 to show and $20,000 to win."
"The game has gone to so many new heights so quickly, and we're all just trying to keep up and catch up. And it's a great time to be involved in the sport for myself, for the fighters, for the promoters, for the managers, for the media in attendance, for the fans, for everyone.
"Times are good, so let's enjoy these momentous occasions."
McGregor currently holds the record for the largest gate in UFC history, $17.7 million for his last bout against Alvarez in Madison Square Garden (as well as three of the top five in total), so if Dana White's forecast comes to pass this weekend you can expect that number to come under some serious threat.
Comments
comments