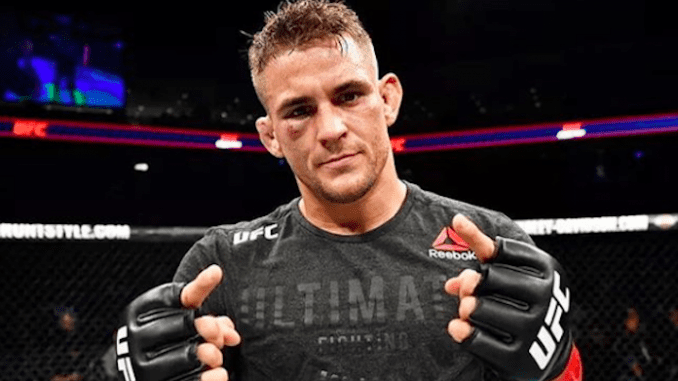 While Dustin Poirier's hip was ultimately the killer blow to his participation at UFC 230 next month opposite Nate Diaz, 'The Diamond' says that Diaz "over-negotiated" his hand and cost both fighters a potential spot in the Madison Square Garden main event.
The lightweight clash between the two was perhaps the most-anticipated bout on the card for the UFC's third event in New York City in a couple of weeks' time and many fans were vocal in their wishes for it to be the featured bout atop the card, a position which would have rendered the bout as five rounds instead of the usual three.
Instead, the UFC initially opted to place a women's flyweight title bout between Valentina Shevchenko and Sijara Eubanks in the main event and then, after that offering failed to capture the imagination of fight fans, a heavyweight battle between Daniel Cormier and Derrick Lewis was fast-tracked to the card.
Poirier's hip injury (which should be healed in a matter of weeks) makes a lot of this a moot point but he insisted that it was Nate Diaz's unruly negotiation tactics which drew the ire of the UFC to the point that a spot in the main event was out of the question.
"We don't even have enough time to talk about all the times it was changed," Poirier said to Luke Thomas on The MMA Hour via MMA Fighting. ""The fight was on, it was off, it was just crazy, there was a lot of crazy stuff going on."
"They wanted to switch it to five rounds, man, it was just so messed up dude," Poirier said. "Nate was being hard to deal with, I believe. Every weight class they offered it at 155 and he wanted 160 and I agreed to that.
"He kind of negotiated himself out of a main-event spot. They offered us the main event, I accepted, Nate over-negotiated, they lost the main event, it was just back-to-back days of him trying to have his way, honestly.
"So much stuff went on behind the scenes. Even if everything went smooth, I'm not sure if this fight would have even went through with this guy," he continued. "But if the UFC wants it, I'm down. If they can make it happen, I'm down."
Comments
comments