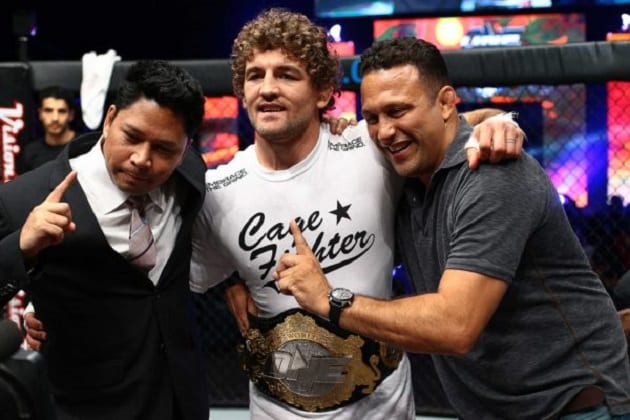 Despite announcing his retirement from mixed martial arts a year ago, Ben Askren's combat career might not be over just yet.
Askren announced his exit from the sport after losing by submission to Demian Maia in October of last year in what was his second consecutive loss in three fights after joining the UFC in a highly-publicised 'trade' which saw former UFC flyweight champion Demetrious Johnson move to ONE Championship.
Part of the reason for his retirement, Askren said, was a troublesome hip injury which at one point seemed to require replacement surgery but he recently revealed that the injury wasn't as bad as initially feared and that he has had corrective surgery to repair it. And while a return to top level mixed might be some way off, Askren says he has no problem beating up Jake Paul.
Paul, younger brother of Logan, competed on last weekend's Mike Tyson vs Roy Jones card where he beat former NBA player Nate Robinson by second round knockout — but Askren says that it doesn't matter which martial art they fight in.
View this post on Instagram
"It's hard to say when you're going against someone who's that bad," Askren said to Submission Radio.
"I watched the highlights, Nate Robinson, good god. I mean, honestly, it looked like he'd never been boxing before. For someone who's such an elite athlete – I mean, this guy's a very elite athlete, he was a great basketball player – he couldn't box worth a damn. So, I guess Jake Paul has as least enough power to put Nate Robinson to sleep. I don't really know if that tells us very much.
"Obviously I'm someone who is a high-level fighter, who has a large following, who was maybe not known for his stand-up. I think that's probably what he's thinking. But, I've worked out with some other guys, just kind of been around, and they're not fighters, and they… every fat guy on the couch in America thinks he can fight, right? They really do. And then once they feel what it really feels like, it's just different. There's just this gap. Like, they don't understand what it really feels like."
Askren continued, saying that he wouldn't expect much of a challenge in a potential fight with Jake Paul — meaning that the associated paycheque would be the celebrity boxing equivalent of 'easy money'.
"Most people are like, oh, I don't know why Ben Askren would stoop to that level," Askren said. "It's like, listen, when I was in high school, one of the fun things to do was, a bunch of dudes would come over to the house, we'd put on some boxing gloves and we'd try to beat the shit out of each other. Like, we did that for free, we just did that for fun. And now you're telling me you're gonna pay me a whole bunch of money to beat up a YouTube star. Like, I don't know, that just sounds like a fun Friday night to me.
"Muay Thai, kickboxing, boxing, Lethwei. Name the style. You name the style, I'll win."
Comments
comments