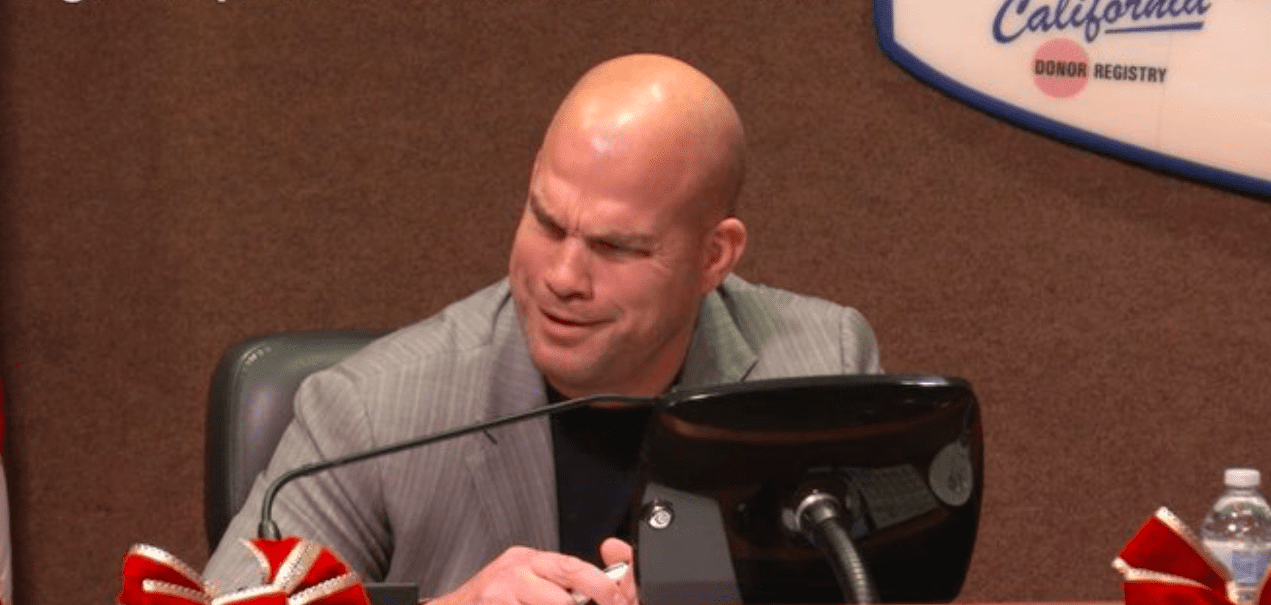 Tito Ortiz's entry into the political sphere isn't going well.
The MAGA-supporting MMA veteran pushed forth with a platform in which he promised to 'Make Huntington Beach Great Again' as part of his campaign to be elected to Huntington Beach's city council late last year, eventually being unanimously selected as Mayor Pro Tem, where he has been serving since December 7 in the absence of recognised mayor.
However Ortiz, who has pushed a series of baseless conspiracy theories about election fraud and has vigorously opposed measures put in place to mitigate the spread of Covid-19 such as adherence to facemask guidelines, has frequently caused the ire of his political peers in the city council, including at least one heated verbal exchange with a fellow councillor regarding his refusal to wear a mask.
Additionally, Ortiz starred in a viral video in which he argued with a constituent about Covid-19 safety practices.
And now it seems that the the city council has had enough after a motion was tabled to remove Ortiz from his position as Mayor Pro Tem after what they say as his repeated failures of leadership.
The Huntington Beach City Council is looking to issue a vote of no confidence in Mayor Pro Tem Tito Ortiz. He was elected to office three months ago. pic.twitter.com/FYPscvPqOp

— RJ Clifford (@RJcliffordMMA) January 28, 2021
"On December 7th, Council Member Tito Ortiz was selected unanimously by his fellow council members to serve in a leadership role as Mayor Pro Tem for the City of Huntington Beach," a release from the council office Thursday stated.
"Unfortunately, Mr. Ortiz has failed to perform at a level expected for his position and has demonstrated little commitment to serving in the role with honor and dignity. His unprofessional demeanour and poor judgement have raised concerns among resident, local business owners, and his fellow council members. The Huntington Beach community expects local elected officials to take their governing responsibilities seriously and we whole heartedly agree."
I hope Tito continues to post these reaction videos whenever he gets denied service or kicked out for not wearing a mask 😂 pic.twitter.com/62YmpjPMlO

— Borrachinha Depot (@FullContactMTWF) January 17, 2021
Ortiz took office amid his overwhelming support for former President Donald Trump, but with the 45th president now having been cast out of office by the American public Ortiz now finds himself in a position where he is dealing with topics such as city zoning laws rather than attending MAGA rallies, or fighting the so-called imaginary 'deep state'.
On December 23, just days after Ortiz assumed the position, a Facebook group called 'Recall Tito Ortiz' was created, and judging by today's news it seems as if they got their man.
The next steps to remove Ortiz from his position will be a council vote on February 1 in which it is hoped that they will garner enough votes to remove him from his position, and then subsequently select a new Mayor Pro Tem.
And predictably, the reactions from many hasn't exactly been one of shock…
Hahahahahahaha what did they think would happen?

— Will Brooks (@ILLxWillBrooks) January 28, 2021
Is anyone surprised by this?

— dan shapiro (@dannyshap) January 28, 2021
City Council by armbar.

— V for Valdez (@abramvaldezCS) January 28, 2021
–
Comments
comments