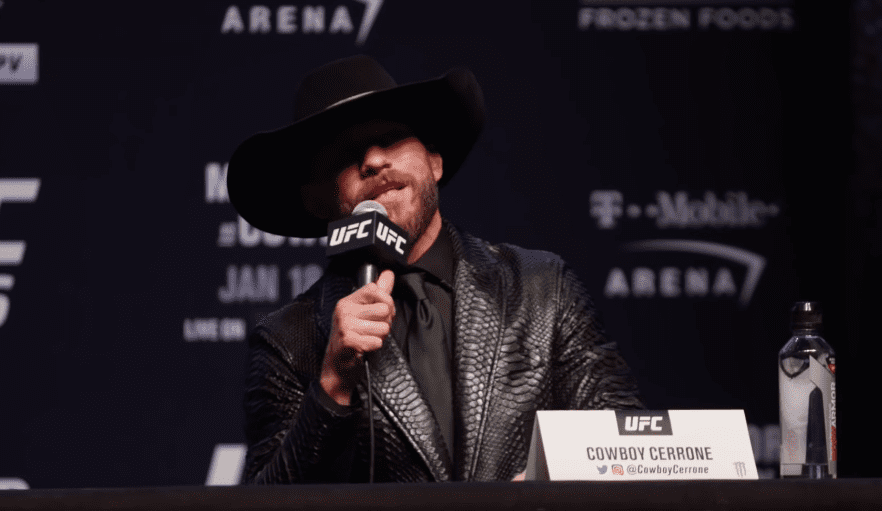 If there is a knock on Donald Cerrone's recording breaking 50 fight career to date, it is that he has so far failed to break into that upper echelon of UFC superstars.
The hugely experienced fighter has faced a rogue's gallery of competitors across the lightweight and welterweight divisions in his nine years with the company. His most successful spell during that time — and eight fight win streak between 2013 and 2015 — was bookended by losses on each side of it to Rafael Dos Anjos, the latter of which was for the 155-pound title held by the Brazilian at the time.
His last two fights, high profile contests with lightweight contenders Tony Ferguson and Justin Gaethje, both ended in defeat for 'Cowboy', where a win in either of those would have cemented his status among the divisional elite once again.
These defeats, his critics say, are evidence that Cerrone can sometimes buckle under pressure when the lights are shining at their brightest. The thing is, the lights are never brighter than when Conor McGregor is in town.
When asked about this by a reporter during Wednesday's UFC 246 presser in Las Vegas, Cerrone acknowledged this narrative.
"He's the two-time, belt-holding champ, so you could definitely say this is, to date, the toughest battle," Cerrone said. "I'm stoked, man, because this is, 'Cowboy, can you fight the big fight? You never make it on the big fight.' Well, motherf*cker, here's the biggest one. Let's see."
In what was a predominantly cordial 30 minutes or so on stage, Cerrone also spoke as to the perceived 'wisdom' on mixed martial arts discussion boards about how Cerrone should try and add to the 17 submissions already on his record and attempt to bypass the Irishman's vaunted power.
"For all you analysts and experts that are out there asking these questions, you would be f*cking stupid to think this man doesn't have a wrestling defense, or some kind of grappling defense, so for me to just walk in and just go, 'Oh, I'm going to take him down and submit him,' get a f*cking real life, man," Cerrone said. "We're going to go there and fight our asses off. That's what's going to happen."

Comments
comments