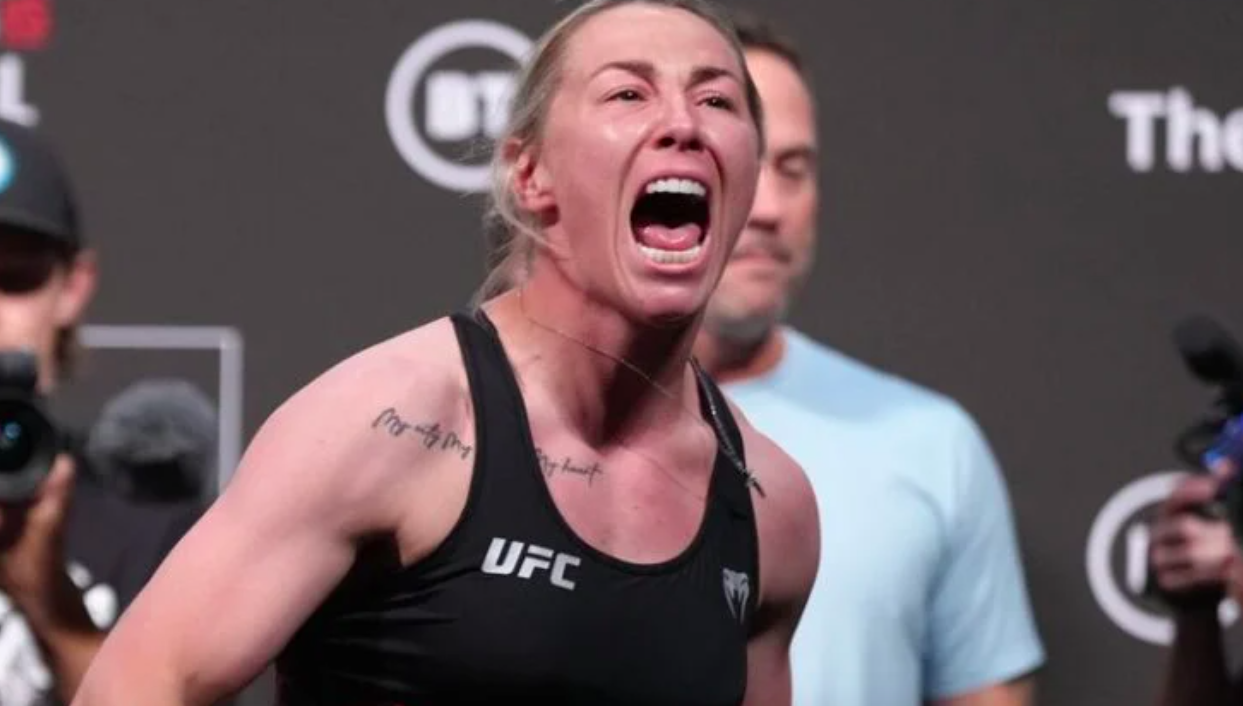 It appears unlikely that Molly McCann will compete in March's UFC London event after stating that she is planning a short break from the mixed martial arts while she licks her wounds from her defeat to Erin Blanchfield at last month's UFC 281 in New York City.
McCann was submitted by a first round kimura in the fight which took place inside the famed Madison Square Garden and speaking with the Liverpool Echo she said that the manner of the loss still grates.
"I'm not going to lie, it is still with me every day," she said. "It feels almost like the loss of a loved one, if you can imagine the dream you've had since being a kid was to compete in MSG and then you don't really get to perform the way you want. It leaves a sour taste.
"The positives to take away, on reflection, is that I got a hero's welcome like when I walked out in Liverpool and she got booed. Even when I lost, she [Blanchfield] got booed even more. To know you are the people's champion and fan favourite, that's what gets you through the dark days."
McCann's recent rise had seen her win three UFC bouts in succession, beating Kim Ji-yeon, Luana Carolina and Hannah Goldy — the last two which were secured after she landed stunning spinning elbows. All three fights earned her a performance bonus.
But referencing the manner of her loss to Blanchfield, McCann said that she wouldn't change a thing from how she approached the fight.
"This isn't boxing, it's about who implements their game plan first. If I had punched or elbowed her, we wouldn't be having this conversation," she said. "I spent 15 weeks preparing, doing extra sessions, I brought in Olympic wrestlers — everything was on. I threw one big dig; she didn't like it and took me down. I fell into a position which you can't get out of and I held on for as long as I could. I am proud of how I handled myself after it; I gave her the respect she deserves and I wasn't a spoiled brat."
And after being 'Meatball' for much of 2022, McCann says she simply wants to spend a little bit of time just being Molly before she straps on the 4oz gloves again.
"What's required of myself, Paddy, Darren [Till] and Tom Aspinall when we fight is a lot," she explained.
"You need to be ready for the camp, the media and everything else. Until I've got that urge, I will take a bit of time out. I want to be Molly for a bit. I know this sounds mental, but for the last two years it has been 'The Meatball' and the Molly and Paddy show — and people don't really know who I am.
"I don't get to live a normal life and I would just like a couple of months to walk my dogs, cook my own food and do work within my community. I'm doing so much with Weapons Down Gloves Up and KnifeSavers, which teaches people how to stem bleeding after a knife attack."
Comments
comments