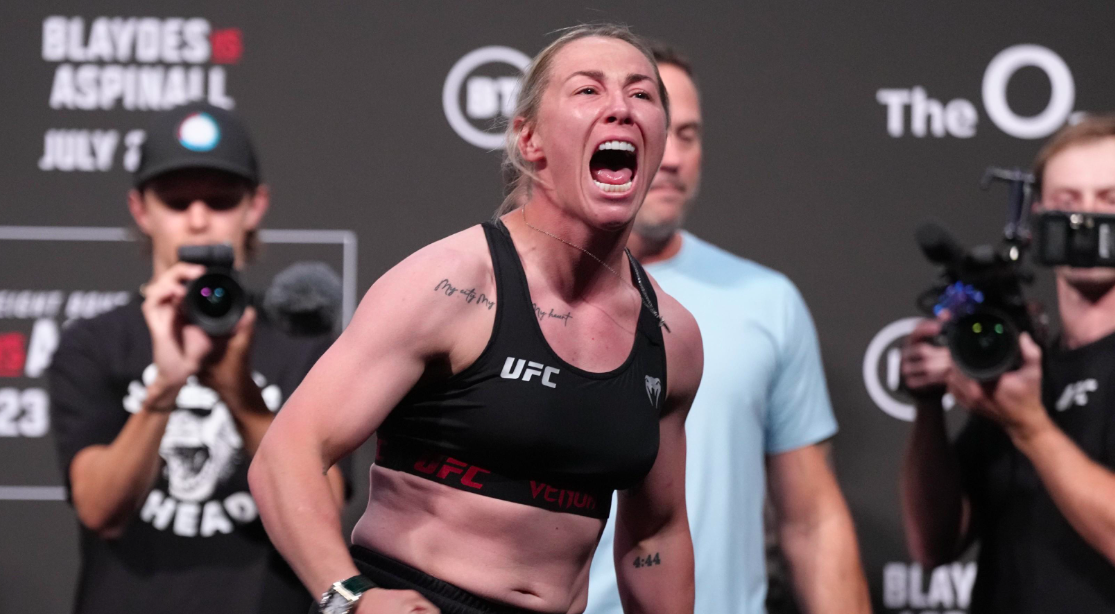 For Molly McCann, defeat is a tough pill to swallow.
Scouser McCann enjoyed a blistering start to 2022, scoring two successive knockout wins against Luana Carolina and Hannah Goldy (both of which came as a result of highlight reel spinning attacks, by the way) last year which surged her up the rankings and made her a bona fide star alongside close friend Paddy Pimblett in the UK.
Her third, though, didn't quite have the same result after she ran into the fearsome Erin Blanchfield in Madison Square Garden in November, with her night ending before the fourth-minute of the first round due to a kimura submission. Afterwards, McCann spoke of the impact that losing can have on an athlete and announced that she was to take a brief hiatus from the sport — which, for example, saw her being absent from this month's UFC card in London.
And opening up on the mental obstacles that this sport can present while speaking on the High Performance podcast, McCann admitted that she questioned whether or not she should even be pursuing a career in mixed martial arts.
"When you leave no stone unturned, no matter how a fight for me goes, I'll leave with me head up," McCann said. "The last fight that I completely got my arse handed to me… The second that fight was over, (I) congratulated her… left with me head held high, and I went and met everyone else in the pub, as I do," she said, as noted by MMA News.
"I sat there. I could sit with myself. Now, I've lost before. I lost one other time on my UFC debut. I could not sit with myself. I had never felt anything like that before. But I knew I had given everything (at UFC 281). I had paid for every single thing I could in terms of recovery… Hadn't even had a cookie in camp… I had done everything right… I could walk with my head held high.
"Don't get me wrong, I grieved like it was no one's business. I had to still sit and think, 'Is this for me? Should I be doing this?'" McCann stated. "But I think, if you're not sad, and if you're not feeling like that, and if you're not heartbroken after losing, you shouldn't be in the game."
You can watch the full extended interview with McCann here.
Comments
comments