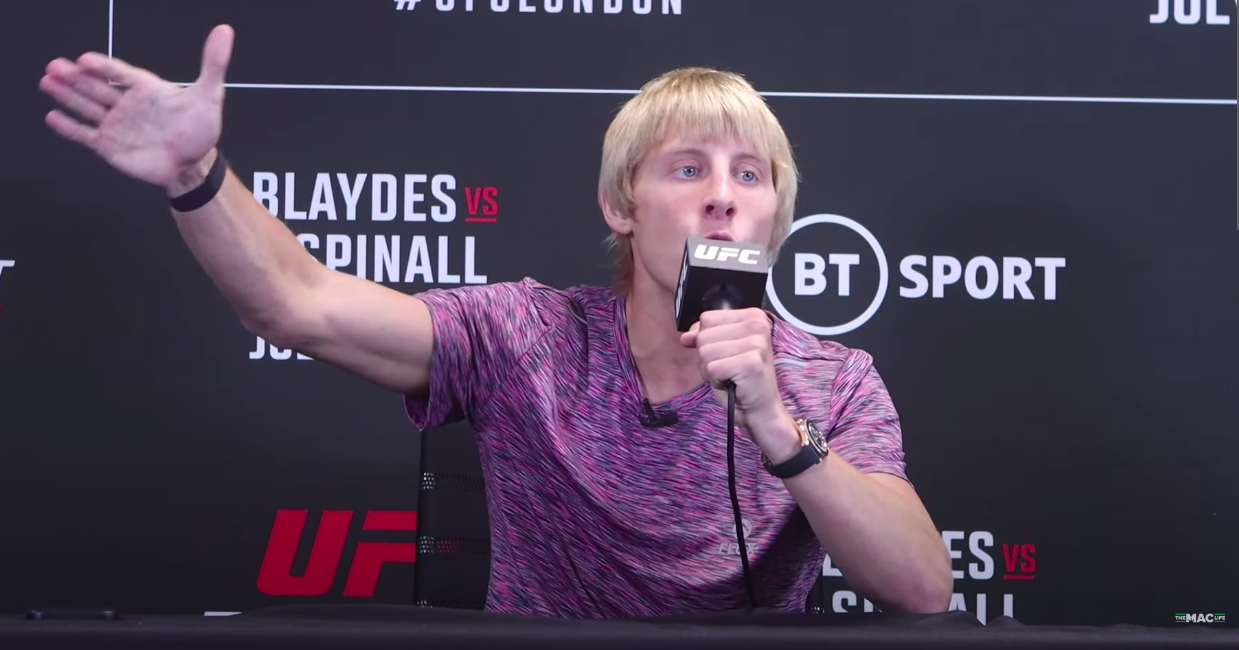 Paddy Pimblett is more famous this Monday afternoon than he has ever been but fellow Briton (via Russian extraction) Muhammad Mokaev certainly isn't joining the Liverpool man's fan club.
Pimblett, 27, made good on his word to become the first fighter to finish American Jordan Leavitt inside the cage, triumphing via second round rear-naked choke submission in what was a featured bout on Saturday's UFC card in London. He was not just hailed for the finish, but for his post-fight comments in which he delivered an impassioned plea towards men's mental health in which he called on anyone who suffering from hard times to speak up and tell a friend — something which sombrely delivered following the tragic and unexpected passing of a friend of his days before the fight card.
But if the UK (and further afield) sports media have begun to take notice of Pimblett, Mokaev — who moved to 8-0 with a decision win against Charles Johnson — most certainly isn't a fan.
"There's so many guys that don't get a lot of media attention that should get it," Mokaev said his post-fight presser. "Example, Arnold Allen. It's Leon Edwards. It's Tom Aspinall. Nathaniel Wood. These guys are amazing, good examples. I don't disrespect the media, but you give a bullsh*t guy like Paddy Pimblett attention.
"These guys never reach the top 15. Like, realistically, [if you understand MMA] he'll never reach it. I don't think he's a great role model for young guys. Please follow Tom Aspinall, Arnold Allen, Leon Edwards, real men inside the cage and outside the cage. I'm proud to be on the same card as a man like Tom Aspinall."
Much of this can be dated back to a prolonged feud between the two, and follows a 2018 Twitter exchange in which Pimblett criticised the Dagestan-born fighter, who is a fully-fledged UK citizen, for carrying the UK flag to the cage. Mokaev, for his part, accused Pimblett of racism.
And nor was he a fan of Pimblett showing his backside to the media at Friday's weigh-ins.
"This guy pulls his pants down," Mokaev said. "A man doesn't do this. Women don't do this stuff. Pulls his pants down, get fat, drink beer, like animal. Men in Liverpool, I know real Scouse people, they don't do stuff like this. This guy is just too much. I'm not a hater, I just want to see a newer generation follow real men. If you talk about UK guys, there's Tom Aspinall. There's Arnold Allen. Leon Edwards. Men of the world, of what they're doing, they will back you up.
"Not this guy, walk behind security when he sees a camera then he's like a real guy, but when there's no camera he's hiding. I see this. I know this energy. I'm not some kid like, 'Everybody push me to the cage, go fight please.' I grew up crazy too."
Comments
comments