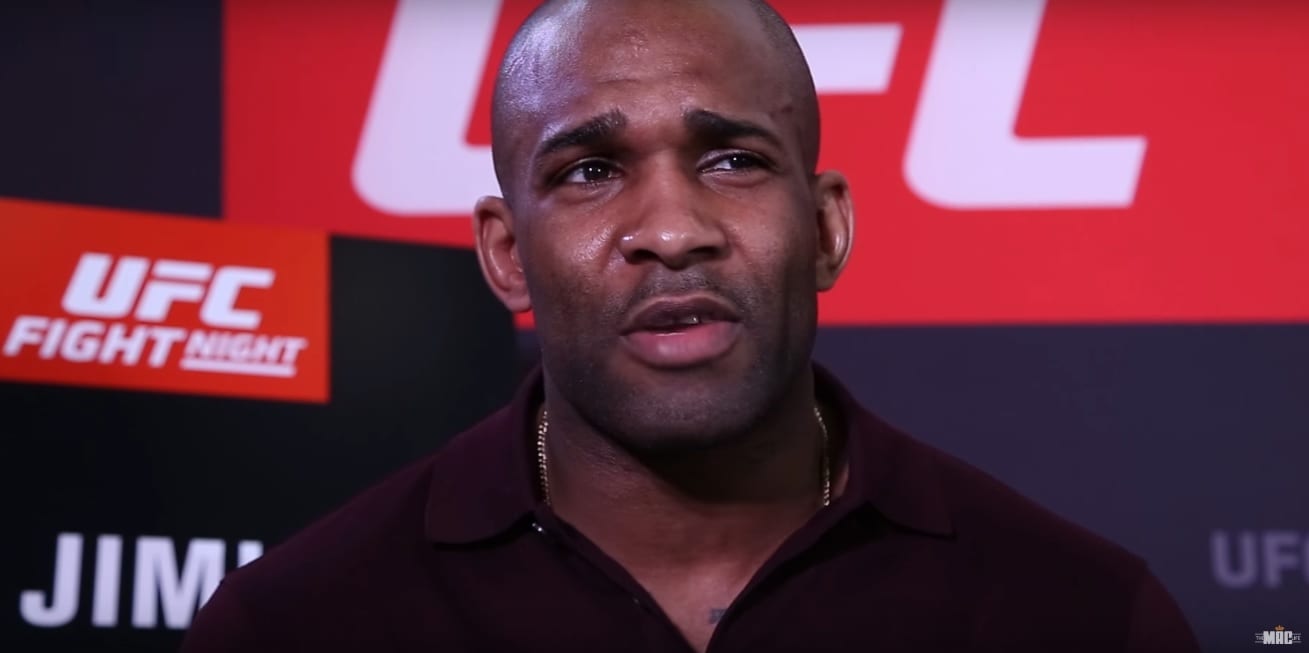 Amid all the happenings from what was a frankly quite unusual UFC card in London last Saturday night, one of the narratives which might have got lost under the news of Tom Aspinall's freak injury or Paddy Pimblett's latest win was the backstage fracas involving former light heavyweight rivals Jimi Manuwa and Aleksandar Rakic.
Austrian fighter Rakic, who was most recently seen in the cage in a losing effort against Jan Blachowicz this past May, owns a high kick knockout win against Manuwa dating back to their clash in Sweden in 2019, and Rakic said that Manuwa renewed their rivalry with a sucker punch when the two squared up to one another backstage on Saturday night.
"Jimi Manuwa, you piece of sh*t," Rakic said in a video released to social media. "You son of a bitch, man. What a pussy move you did last night on me. Guys, I would just let you know that after the event at UFC London the security was escorting me to the transfer back to the hotel and Mr. Still Sleep was sitting in my row, at the end of my row, so I needed to pass him by.
"I passed by and he talked to me something. I didn't really pay attention, first. And the second, I have nothing to do with that guy. For me, this is over. So I started to turn away and he sucker punched me, and even in that close range he couldn't catch my head. I think he hit me with the forearm on my neck. The security were fast and they separate us.
"Man, what a f*cking pussy move. You knew that I would be alone in London by myself. You knew that I had surgery nine weeks ago, and you did this? Man, you're such a bad, bad loser. I want people to know what a piece of sh*t you are. I'm going to stay in your head forever. I retired you. I knocked you out and the world saw that. Happy retirement, Mr Sleep."
Manuwa, for his part, gave his side of the melee to BJPenn.com.
"It wasn't a sucker-punch, we were face-to-face and I slapped him and he moved away and did nothing," Manuwa said.
"The security came and that was the end of it and I didn't make a scene. I told him I was going to slap him when I saw him and that is what I did… He was walking past and I said to him 'what are you saying now?' and he was acting all confused. He tried to keep walking so I slapped him and he was like a fox in the headlights. He didn't say anything after."
Manuwa added that the confrontation wasn't due to him being a sore loser, but rather because of what he says is Rakic's disrespectful nature to past opponents.
"The fight is the fight, it's not the first time I've lost. I've lost to Rumble Johnson, Gustafsson, Oezdemir, I lost to Blachowicz and we are all friends now. I text them every now and then to check in and we are all respectful," Manuwa explained.
"Rakic, I don't know what it is. I got asked by a fan what fight do I want back and I said the one with Rakic because I feel like I didn't get to show my real skills. He came back and said 'oh I knocked you out, do you need some money off the 50 bags I earned?' Or he sends stuff he bought and says he bought it using the money he got from knocking me out. Just being proper disrespectful and I said to him, 'when I see you keep the same energy' and that's it. I just had to give him what he deserves for acting like a troll and a keyboard warrior online."
Comments
comments