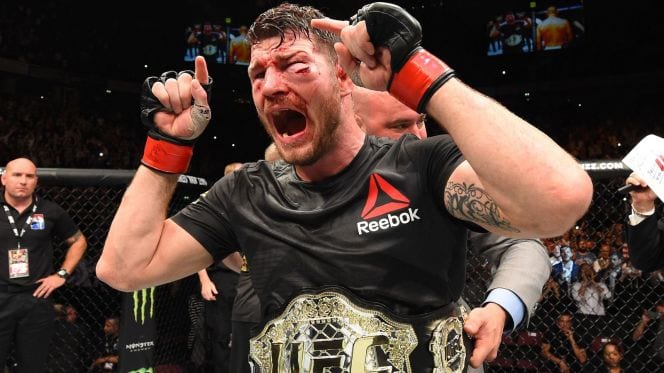 Michael Bisping, Britain's first ever UFC champion, has announced his retirement from mixed martial arts, bringing to an end a more than 14-year career as a professional prizefighter.
'The Count' has indicated on recent editions of his Believe You Me podcast that he was likely already retired but confirmed late on Sunday that he has indeed fought his final fight. Ultimately, a lingering eye injury coupled with the fact that he suffered two successive defeats in the octagon has led the former middleweight world champion to walk away from the sport, a year or so removed from his 40th birthday.
Bisping will be remembered in the sport for as long as it exists. From his unlikely come-from-behind victory against Anderson Silva in his home country, to his short notice title-winning knockout of Luke Rockhold to claim the UFC's 185-pound championship in 2016, Bisping has been involved in some of the most dramatic moments in the sport's history.
Utterly blown away by all the beautiful messages regarding my retirement. I have so many people I need to thanks but right now, thank you for the kind words. I should retire more often 😂😂😂

— michael (@bisping) May 29, 2018
The MMA world has united to pay tribute to Bisping after the future Hall of Famer's announcement. Check out a selection below:
FELLOW FIGHTERS
Congrats on your amazing journey @bisping was a pleasure to train and help you a bit on this journey. Much respect

— Rafael dos Anjos (@RdosAnjosMMA) May 29, 2018
Great career @bisping . I always wanted to fight you because you're a legendary and top contender . To stay with the top organization and be relevant for years takes a lot, much respect and enjoy! 🙏

— Derek Brunson (@DerekBrunson) May 29, 2018
Great to see @bisping retire. He's had a great career and it's time for the next stage. I wish him all the best! pic.twitter.com/AyW3gkvaKn

— Elvis Sinosic (@ElvisSinosic) May 29, 2018
Congrats to @bisping on his retirement ! He has accomplished so much in this sport and is def a future hall of famer! Unfortunately we never had the opportunity to fight in the octagon but it was a pleasure just to trash talk back and forth a few times ! Future is bright. Enjoy!

— Chris Weidman (@chrisweidman) May 29, 2018
Congrats @bisping on an incredible career!! Your heart and sheer determination to reach the top has always been inspirational to me, all the best for whatever is next https://t.co/Zmdflry57W

— Joe Duffy (@Duffy_MMA) May 29, 2018
Congrats @bisping on a amazing career ! Enjoy your retirement bud !

— patrick cote (@patrick_cote) May 29, 2018
My guy @bisping is getting out of the game. Congrats on a great career my man. You earned it! You made people care one way or the other and you won and won a lot. That's what matters man. Congrats my man! DC pic.twitter.com/sD1rwNtz20

— Daniel Cormier (@dc_mma) May 29, 2018
Enjoy retirement @bisping you had an amazing career and always enjoyed our time sharing the spot light together!! #thecount pic.twitter.com/lCZguoeQo3

— Demetrious Johnson (@MightyMouseUFC) May 29, 2018
What a career Uve had mate. Hard work and a big heart! Enjoy retirement buddy 👊always been a big fan @bisping pic.twitter.com/5Q1wtGklJm

— Steven Ray (@StevenRayMMA) May 29, 2018
Thank for the memories and inspiration over the years @bisping. One of the greats.

— Craig White (@theTHNDRcat) May 29, 2018
Congrats to the Count @bisping on a great @ufc career. He deserves to enjoy retirement after competing so many years against the best of the best….and ultimately becoming champ when few believed#UK #pioneer

— Arjan Singh Bhullar (@TheOneASB) May 29, 2018
Enjoyed watching your incredible career @bisping! Enjoy this next chapter.

— Alan Jouban (@AlanJouban) May 29, 2018
It was a pleasure to grow up watching his career. Seeing the growth, the trash talk, and going in there and getting after it 👊🏾 https://t.co/yMncdlNj5W

— Aljamain Sterling (@FunkMaster_UFC) May 29, 2018
MEDIA MEMBERS
I knew the time was drawing near; but hearing that my @UFCONFOX partner in crime @bisping has officially retired is still bittersweet. Happy I won't be panicking while he fights, but sad I won't have the opportunity again. Congrats Mike! See you on set, and in the HOF! 👏🏽😘🙌🏽

— Karyn Bryant (@KarynBryant) May 29, 2018
Congratulations @bisping you fought them all and you proved your mettle time and time again. TUF Champ, most wins in ufc history, most fights in ufc history, @ufc middleweight champ. 👏 Time to enjoy your life even more. You earned it!

— Kenny Florian (@kennyflorian) May 29, 2018
Congrats. One of the greats. Never been so happy to see a guy finally get the belt after 10 years of grinding with competition filled with PED's. You put England on the map. Your career outside of Fighting I'd bet is just as successful @bisping 🙏🏼

— Brendan Schaub (@BrendanSchaub) May 29, 2018
Michael Bisping has officially retired. What a career. Soooo many memories. I'll never forget he and I were talking at The Palms, before the Jason Miller fight, he stopped me midsentence and said, "You hear that? Jason. I hate that guy." Miller walked in a minute later.

— Brett Okamoto (@bokamotoESPN) May 29, 2018
Michael Bisping had that damn strut. That cocksure strut. You hated him for it. You loved him for it. Sometimes you weren't exactly certain which, or why. But wasn't he fun to watch fight? Yes he was. Michael Bisping will be missed. You can count on it.

— Jeff Wagenheim (@jeffwagenheim) May 29, 2018
Congrats to the legend @bisping on an outstanding UFC career! No man did more for MMA's growth in the UK and it was only fitting he was England's first undisputed UFC champion. Thankful to have had the chance to watch and call his fights. Next stop: Hall of Fame. #thanksMike https://t.co/QNFtPQ2LKu

— Jon Anik (@Jon_Anik) May 29, 2018
Congratulations to @Bisping on his retirement. He was my first ever MMA in-person MMA interview all the way back in January of 2009 and a true testament to the determination required to succeed at the highest level of sport. Enjoy it Mike.

— John Balfe (@JohnBalfe) May 29, 2018
Want to wish the man @bisping congratulations on an outstanding career!! Hope to see more of you on the desk brother.

— Jimmy Smith (@jimmysmithmma) May 29, 2018
Comments
comments