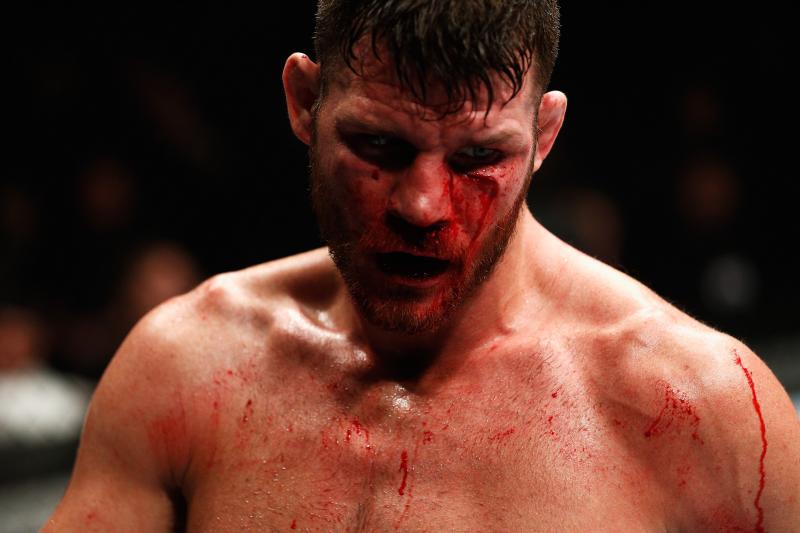 The cultural connection between the bulldog and the United Kingdom is somewhat hard to explain. It's not a particularly regal animal, like three lions on the football jersey. It's not got any physical traits that makes it shine above other breeds. It's noisy. It's defiant. Stubborn. All in all, it's just a little rough around the edges — wait, who are we talking about again?
Yesterday afternoon, Michael Bisping announced his retirement from mixed martial arts. After a career spanning over a decade, with 29 fights at the highest level, and a title run to his name, the British Bulldog of MMA has decided to call it a day. Citing a combination of increasing medical issues with his eyes — of course stemming from a life of fist fighting — and a film detailing the worst damage fighting can do, and he felt there was no point in stepping into the cage once again.
"I was watching this movie last night and I just thought, it ain't worth it," Bisping said on his podcast. "It ain't worth it. I mean, what else am I going to do? I've won the belt, I've had tons of wins, I've done everything that I set out to achieve. What's the point in flogging a dead horse? Not that I'm a dead horse, but what's the point? I've done everything that I set out to achieve, and fortunately now I've used my platform to open other doors.
"You know, you've got to know when to walk away. I'm almost 40 years old, the time is now."
It draws the curtain to a close on one of the most colourful characters we've seen in the UFC. It's also the end to one of the most storied careers in fighting.
Really, the perfect example of who Michael Bisping was as a fighter can be found in his contest with Anderson Silva. It's a memorable scene. At the end of the third, in front of a raucous crowd of his fellow Brits, Bisping was hit with a flying knee and sent crumpled to the canvas, his nose exploding to give his face a bright crimson hue.
As Silva took to celebrate on top of the cage, Bisping lay in a heap trying to gather his thoughts, while simultaneously being told the contest wasn't over. He'd been saved by the bell moments after after having his bell rung. With Silva being dragged from happiness and told to continue fighting, in the confusion that followed Bisping's cuts weren't addressed and the blood began to pour down his face. There are millions of men and women across the world who wouldn't be able to continue. And yet as Bisping took unstably to his feet to start the fourth round, just three things went through his mind.
Hands up. Chin down. Forward. A bulldog through and through.
For years, Michael Bisping's legacy looked set to be the answer to a pub trivia question. "Who was the best UFC fighter to never win a world title?" people would ask, with the then-perennial contender's face immediately flashing into frame. Three times Bisping got on the cusp of a title shot. Three times he was knocked back down. All three opponents had synthetic testosterone in their system.
But three times he got back up.
Still, when he eventually got his shot, it didn't feel fair. On the back of the epic with Silva, Bisping finally got his opportunity at the gold against Luke Rockhold — an old rival who had previously beaten Bisping handily — with seventeen days notice.
There are certainly those who point to Matt Serra vs. Georges St-Pierre as the greatest upset in mixed martial arts history, but few can deny Bisping's chances in the rematch were seen as slim. Rockhold was the younger, faster man and had the affair had the air of inevitability to it — it was nice to see Bisping get his chance at the title, but a shame it would end like this.
A left hook later, and the world was different. After 26 fights in the UFC, Bisping was the world champion on his first time of asking. And while fans might remember his title run with mixed feelings, the scene of Bisping sitting on the cage yelling a victorious fuck you to a dizzy Luke Rockhold will forever be the image he'll be remembered for.
Michael Bisping.
For much of his career, he was maligned — for parts of it, even hated. And yet now he's gone, it's with great sadness the revelation comes that there won't ever be another one like him.
–
Comments
comments