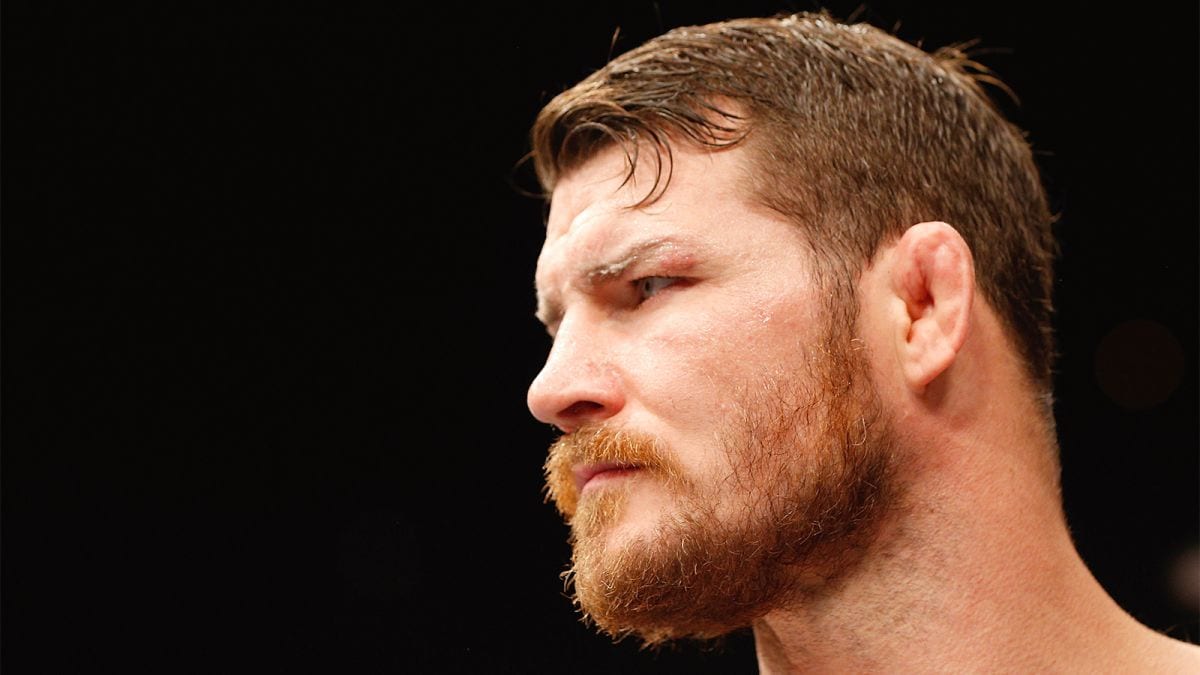 Michael Bisping is saying goodbye to active competition.
The former middleweight champion has been debating whether or not to compete in a retirement fight before officially walking away from his fighting career for the past few months time, but after a newly found medical issue, Bisping has decided it's time to call it a day. Should he never fight again, he'll retire with a 30-9 record.
The Brit, and the first man from the United Kingdom to win a UFC world title, announced his decision on his own podcast 'Believe You Me' earlier today.
"You know, you can't do it forever," Bisping said. "Done it for a long time. Of course I've got issues with my eye. After the [Kelvin] Gastelum fight then I started having issues with my good eye, which I've never spoken about before. … After the Gastelum fight I went to a party with all my team, my friends that had flown in to watch. We went to a club, and because it's dark I just kept seeing this flash out the corner of my good eye. I'm like, 'what the hell?' I kept looking. I kept seeing a flash so I kept looking, and doing that constantly.
"So I started freaking out, going I don't believe this, I've got a detached retina in my good eye. I've got problems with my bad eye, it doesn't look good. So obviously I was kind of freaking out. First thing I did when I got home is I went to a doctor and they checked it out — they say it probably is a detached retina, they looked at it, they say no, it's not a detached retina it's a vitreous detachment."
A vitreous detachment is a term to describe an issue in your eye when tiny fibers break inside the vitreous gel (found behind your retina). According to Bisping, the flashing lights he is seeing stems from those fibers breaking occasionally.
While Bisping did continue to contemplate one last fight — hopefully in his native England — eventually he decided there was no point in forcing himself to compete for the sake of one last time in the cage.
"So anyway [after that] I said I was going to be done fighting then," Bisping said. "But then I did contemplate another fight, I was going to fight in London. And that never happened, probably a good thing. … And I was actually negotiating with the UFC to fight Rashad Evans in London. It's probably a good thing that never happened."
Apparently, the decision is freshly made.
Along with the aforementioned medical issues, Bisping said he was inspired to hang up the gloves by a movie called Journeyman, which he watched on a flight over the weekend. The film details a boxer who nearly dies after a contest, and loses the power of his speech and quality of life.
"I was watching this movie last night and I just realised it ain't worth it," Bisping said. "It ain't worth it. What else am I going to do? I've won the belt, I've had tonnes of wins, I've done everything I set out to achieve. What's the point in flogging a dead horse?
"You got to know when to walk away. I'm almost 40-years old. The time is now."
Bisping's career will likely always be defined by two things. First, his representation of Great Britain in the world's premiere mixed martial arts promotion, and secondly for when he defeated rival Luke Rockhold for the world title in a stunning upset after years of never being awarded a a title shot. He first made an appearance with The Ultimate Fighter 3 back in 2006, before going on to have nearly 30 fights in the promotion.
Comments
comments