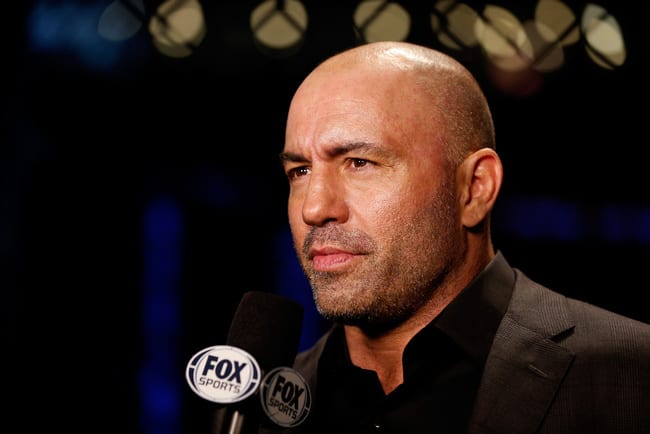 Fans might have noticed Joe Rogan's work schedule with the UFC has been drastically reduced over the past year or so, after the long time commentator signed a new contract with the MMA promotion mid way through 2016.
These days, Rogan's appearances are limited to just the big pay-per-view events — around twelve a year — with him no longer working on any smaller cards. But according to Rogan himself, a decisive factor in him no longer working events under the Fox umbrella was an early disagreement with company executives.
Speaking on the Joe Rogan Experience yesterday, Rogan revealed that when he worked his first event with Fox on television, he was given plenty of tips on how to do his job. Unsurprisingly, that didn't fly for the veteran.
"They got in my ear," Rogan said. "The very first events for FOX, they were like telling me what to do. They were telling me to take it down a notch. 'Don't be so amped up about that guy,' I was like, 'What? What are you doing here?' I go, 'Listen, I do commentary. This is what I do. I've been doing it forever. This is how I do it. If you think you can change me, then we're not going to work together.' We had a real problem for the first event. It was a FOX production.
"I didn't like it. They want a sports guy. Look, MMA is what it is. It's fighting. It is a very specific kind of sport. I've been doing it the way I've been doing it forever. If you don't like the way I do it, that's fine. Don't hire me. But don't try to get me to become some sports guy. I'm not interested in that at all."
"They stopped doing it after the first event when I voiced my displeasure," Rogan continued. "I let them know really clearly, 'Look, we're not doing this. We're not going to change how I do it to make you happy. If you don't like the way I do it, it's not an option for you to direct me and tell me to do it the way you like it, because you think that's how.' They were producers or executives. I don't agree with them, and I'm not doing it that way.
"This is what I do. I get amped up. If some shit goes down and guys are trading blows and I'm screaming, it's because I feel that way. It's legitimate passion. I'm not faking it. They let it go after a while, but it's not like they fought for me when I quit, either."
Comments
comments