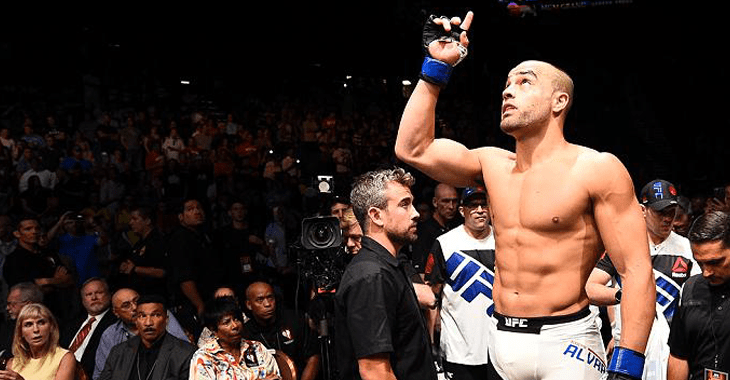 Eddie Alvarez's upcoming July rematch with Dustin Poirier is a high stakes match-up for a number of reasons.
The second meeting between the two following a no-contest in their first clash a year ago, a win for either will place them on the cusp of title contention at 155-pounds while the loser will have a long ladder to climb towards the summit of the division.
For Alvarez though, the stakes are higher. This is the Philadelphian fighter's last fight on his current UFC contract and having failed to agree a new deal with the UFC ahead of the forthcoming bout with Poirier, Alvarez knows that if the result doesn't go his way it will hamper any upcoming negotiations. A win, on the other hand, and he becomes an even more valuable commodity.
"I'm betting on myself," Alvarez said to Ariel Helwani on a recent episode of The MMA Hour on MMA Fighting.
"There wasn't a new contract signed, and whoever — whether it's his camp, or whoever's camp out there that is kinda putting that out there, that's bullcrap. I'm not this new guy coming in who signed this new, giant, great deal. That's not what happened.
"I sat down with Dana (White) and the UFC, and we're still very cordial, we're still talking. There was no deal signed, but there's a point in every fighter's career where sometimes you roll the dice on yourself. Sometimes you believe in yourself and you roll the dice.
"I like to put myself in a very emotional state, and I think by rolling the dice on myself, putting my back against the wall — in the past I've done really well there, so I'm kinda putting my own back against the wall and I'm rolling the dice and I'm betting on me."
Alvarez improved his career ledger to 29-5-1 with a third round knockout of Justin Gaethje at UFC 218 last December, his first win in the organisation since claiming the lightweight title from Rafael Dos Anjos in July 2016. His other bouts during his four-year UFC tenure are a loss to Conor McGregor, wins against Anthony Pettis and Gilbert Melendez. He lost his UFC debut by decision to Donald Cerrone.
His status are a fan-favourite, as well as one of the division's most exciting fighters, should, he hopes, expedite the talks with the UFC.
"Everything is really good between all of us, all parties," Alvarez said. "We just haven't come to an agreement. Every deal is different, and every deal takes more time than the next, so I have a feeling we'll get something done. Right now it's not, so rather than elongate the process, say 'I'm not going to fight' and stomp my foot down and be a baby, I said let's fight. Let's just fight. Let's fight. And then we'll figure it out along the way. If it doesn't, it doesn't.
"But I think we're all talking and everything is going well. So I'm happy with the way things are going, but I think it's more important — fans are yelling and screaming about this fight, everybody wants it, and I think it's more important that we put this fight on for the fans."
Comments
comments