Joe Rogan has for the last few days come under more fire than ever before in his career.
The UFC commentator and popular podcaster has drawn the ire of critics — including the White House — for his stance on the COVID-19 vaccine and support of alternative treatment, as well as his usage of the N word over the course of his time as a podcaster.
While Rogan has plenty of detractors, he does also have supporters, plenty of whom come from the world of mixed martial arts. Names like Kamaru Usman, Darren Till and Ben Askren have publicly shared their support for the controversial pundit.
3 people you can never cancel, infact 4.
Joe Rogan
Ricky Gervais
Russell Brand
& me! 🙂🙂🙂
Have a smashing week

— D (@darrentill2) February 6, 2022
This is why they wanna cancel @joerogan
They're narrative is not on his agenda.
I support Joe. pic.twitter.com/3NlDsLJMHW

— #OnAmission4Gold (@KelvinGastelum) February 7, 2022
If they can cancel Joe they can cancel anyone. Time to stand up people.

— Funky (@Benaskren) February 5, 2022
Not a single person believes Joe Rogan is a racist

— Jake Shields (@jakeshieldsajj) February 6, 2022
If you feel Joe Rogan owes an apology you should also accept it. As a recovering addict, I have done and said things that I'm not proud of, but if we are not given a chance to make amends, nobody would ever recover.

— Terrance McKinney (@twrecks155) February 7, 2022
It's weird that you have to make a proclamation that you stand with a friend that ask questions and doesn't accept the status quo. The only reason I have @spotify is because @joerogan is on it. Fuck #cancelculture and screw every coward that supports any form of #censorship pic.twitter.com/RDVQGjRgSs

— Tim Kennedy (@TimKennedyMMA) January 30, 2022
Ok the planet of the apes comment was a trash comment. I stated this before I was aware of that. I was under the idea of the rest of his derogatory comments were made under a context in which he was trying to educate his listeners which he's done so many times before. Shit sucks. https://t.co/oZ91HaSW60

— Deron Winn (@DeronWinn) February 6, 2022
Who tf are the people trying to cancel @joerogan ??? You're barking up the wrong tree!

— Matt Brown (@IamTheImmortal) February 6, 2022
@joerogan is as real as they come

— Dan "50k" Ige (@Dynamitedan808) February 6, 2022
I agree w/you 100%. My boys and I were talking about this for two days now, via Phone call and text. No justification for it.
A white comedian thinking he was being funny, but it wasn't.

Personally, I've never once felt an oz of racism from Rogan in or away from the octagon.

— Aljamain Sterling (@funkmasterMMA) February 7, 2022
View this post on Instagram
View this post on Instagram
–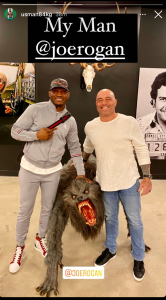 –
Comments
comments