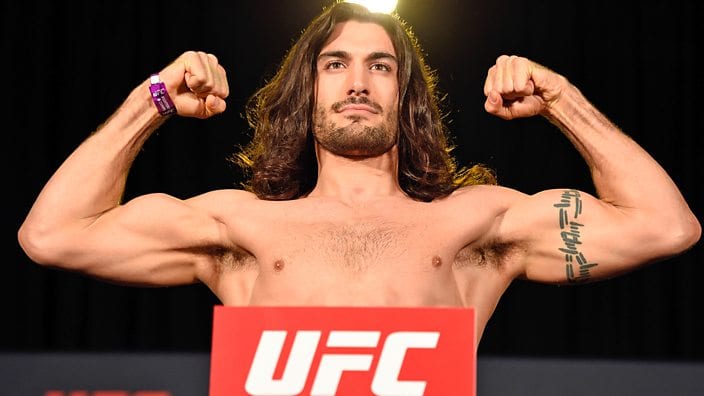 The global MMA community woke on Monday morning to the tragic news of the death of former UFC middleweight fighter Elias Theodorou. He was 34.
Numerous reports online have confirmed the passing of the fighter known as 'The Mane Event', who fought 11 times in the UFC after winning a series of 'The Ultimate Fighter'. He went 8-3 under the UFC banner, defeating the likes of Eryk Anders and Sam Alvey along the way. He posted a career record of 19-3 and was never knocked out or submitted during hi pro MMA career.
It is understood that Theodorou had been suffering from stage 4 liver cancer, and that he had kept it secret from many except his closest circle.
He last fought in the cage this past December in a unanimous decision win against former Bellator vet Bryan Baker. He had won three fights on the bounce following his release from the UFC in May 2019. Theodorou was also well-known for being a vocal supporter of the use of medical cannabis and was the first fighter to be awarded a Therapeutic Use Exemption (TUE) for the substance by the British Columbia Board of Control.
You were such a beautiful soul. Always so kind and such a bright light in this world. This news is devastating. You will be greatly missed, but never forgotten. Fly high, Elias! #RingBoy pic.twitter.com/tHP9jv41JU

— Shannon Knapp (@shanknapp) September 12, 2022
Oh man, It's so sad to hear about Elias Theodorou. May he Rest In Peace.

— Tanner Boser (@BulldozerBoser) September 12, 2022
And he didn't make it known to the public at all. Can only assume he didn't want pity. Damn. What a badass.

— Tanner Boser (@BulldozerBoser) September 12, 2022
Theodorou also broke new ground by appearing for the all-female fighting promotion Invicta as a 'ring card boy', something he told TheMacLife in a 2018 interview that was intended "start a conversation" regarding the sexualisation of sports.
"I'm not necessarily trying to win anyone over, I'm just trying to start the conversation", he said. "It's really up to the promotions to try ring boys as an addition, or remove ring card holders altogether. I think it will settle itself out.
"I'm trying to add, not subtract or distract, when I make my Invicta debut. I'm not going to make a mockery of it, I'm going to wear the clothes that I feel comfortable in, which will be athletic shorts and I'm going to wearing a top that's open in a classy and professional way. I'll be doing the same thing that my female counterparts are doing.
"I'm going to treat it with respect. I'm going to treat my female counterparts with respect. I'm not looking to make this a one off, I plan on doing this regularly with Invicta. It's not me having a one-and-done just for shits n' giggles, I plan on doing this for the long haul and I'm really excited to be a part of the Invicta team. It's not going to be The Elias Show, it's all about the powerful women that will be on the card fighting."
Comments
comments