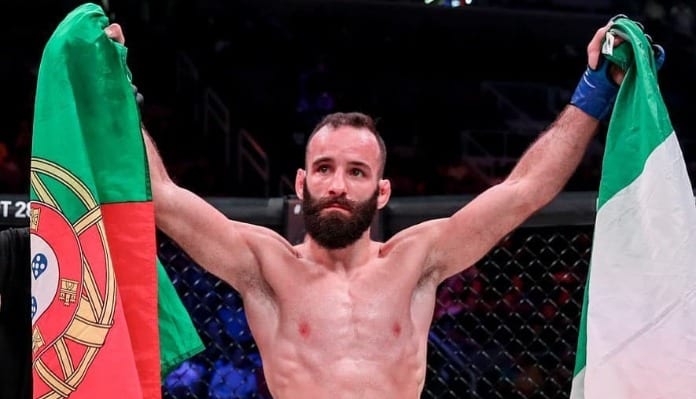 It's been a long wait for Pedro Carvalho but on Thursday the Portuguese finally gets his opportunity to become the latest world champion out of SBG Ireland when he fights Bellator featherweight titleholder Patricio Freire in the quarter-final of the promotion's 145-pounds Grand Prix.
Freire, Bellator's featherweight champion since 2017, will put his title on the line against Carvalho at Thursday's main event clash from the Mohegan Sun Arena in Connecticut in a fight which was initially supposed to take place several months ago but was waylaid, much like most global sport, by the onset of the coronavirus pandemic.
Now, though, with barely 24 hours until the fight becomes a reality, Carvalho is in confident form.
View this post on Instagram
"The belt is the physical embodiment of a championship," Carvalho told the media this week. "But, in my mind, I'm already the champion. I'll do my job as always. When the cage door is closed, I'll beat whoever they put in front of me. Once I'm the actual champion, nothing will change. I'll continue looking to defeat the best in the world. I have a tireless drive to be the best. Becoming the Bellator champion will only be the start of my journey."
Winning the world title and moving to the tournament semi-final would represent a career high for Carvalho, particularly in a year which has presented so many ups and downs.
"Without a doubt, this has been a strange year," he agrees. "I'm not sure why we couldn't have fought earlier. Regardless, I'm happy the fight is on now. I've always been self-motivated. I always aim to be the best. While I was waiting, I keep training and keeping my weight in check, so I could be ready at any moment. Between March and May, when everything was shut down due to the pandemic, I pretty much trained by myself. But I got the job done and stayed in shape.
"Other than the date, nothing has changed. I will be the new champion, and I'll prove I'm the best in the world."
The @BellatorMMA Featherweight World Championship is on the line pic.twitter.com/qzmMgecP7M

— Scott Coker (@ScottCoker) November 11, 2020
And as for how Carvalho says the fight will pan out once the referee motions for them to step forward?
"I'll do what I always do," he says. "I'm going to force him to make mistakes. By the second round, I'll have his timing down so I can hit him with hard strikes. I'll win by KO or submission. It will not go to the judges."
Comments
comments