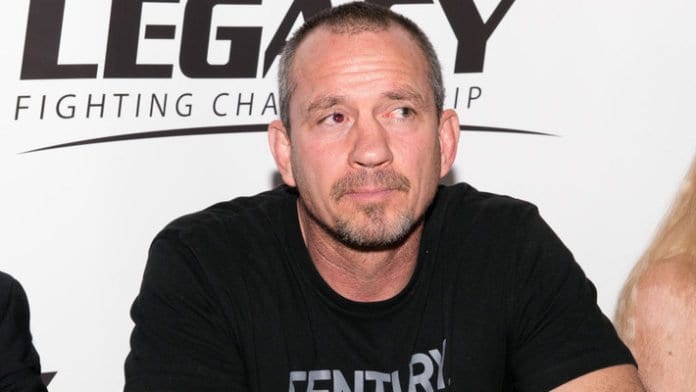 Over the past few weeks, Mike Winkeljohn has found his name in the headlines, and it's not because of his coaching ability.
The Jackson-Wink head coach was accused by Donald Cerrone of preferring money over loyalty, and turning the famous facility into a 'puppy-mill' that focused more on opportunities for the general public than the elite athletes that made it famous.
Following those allegations, another member of Jackson-Wink — Ricky Kottenstette — has come out against the head coach, posting pictures of a conversation between himself and Jackson-Wink striking coach Frank Lester discussing Winkeljohn.
In response, Winkeljohn doesn't care to be shy.
"The bully thing caught me off guard, but there's no doubt I understand that Ricky wouldn't like me. Hey, you know what, guess what? I do not like the guy," Winkeljohn said, speaking to Submission Radio. "Let me think about this for a second. He ran three schools for Greg Jackson for a while, they all lost money. In fact, our big gym was losing money and was considered the best gym in the world and it was actually draining Greg Jackson's other resources, but for some reason the manager was driving very, very nice exotic cars and living in a very nice home. Something was weird about that. So when Greg came to me and said, 'look, this place is failing, I'm gonna have to close the doors,' I said, 'I got an idea, I'm just not taking that guy with me,' and that being Ricky Kottenstette. So he's no longer out of our gym. And there's some people that are unhappy with me I guess. I guess that I'm a jerk in that I expect people to show up on time, work hard and not steal."
And according to Winkeljohn, any accusations from Lester that suggest he's prepared to screw over the striking coach for money are completely off base.
"Not from Frank. You know, Frank is very volatile. He's up and down. He's basically bipolar that way. Love him to death, you know, he's one of those guys that I'd given him a second chance after he didn't want to fight anymore because he was breaking the rules per se when he was fighting, so he wasn't allowed to fight for us anymore. But I said, you know what, I want to give you a chance Frank, I want to turn you into a coach," Winkeljohn said. "He's actually an independent contractor where I take actually zero of the dollars he earns working with the fighters in the gym. Unlike if you went to work for any other business, they would take a percentage. So I'm trying to help him out. So that's surprising because I'm not sure what I'm supposed to do, other than give him 100 percent of the money that people pay, which is unheard of. Everyone thinks I'm an idiot for doing that, but I did that as an opportunity for some of the fighters.
"So yeah, I'm a little surprised at what he said. There's no doubt about it, I gave him the opportunity to work with some of the best fighters in the world with not much experience, and yeah, there you go. I don't know what I can do to him, other than the fact and say, 'hey, this is it. It's my gym, my rules'. And they're not that tough. It's basically, show up on time, don't steal and do your job. And people might think I'm crazy for that, but you know, the only other choice is to become the Federal government and give people welfare, and that's not what I'm all about."
Watch the full interview in the video below courtesy of Submission Radio:
–
Comments
comments