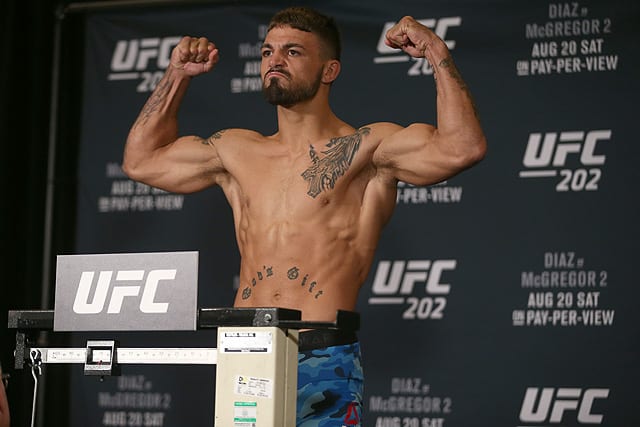 After all the drama, Mike Perry might not even be staying at JacksonWink.
But first to the uninitiated — some context.
After training in Florida for some years, Mike Perry joined the world renowned JacksonWink MMA gym in order to train with what he perceived as some of the best fighters in the world. Shortly thereafter, Perry called for a fight with Donald 'Cowboy' Cerrone, a longtime member of the gym — albeit one who has other training options with his own 'Bad MotherFucker Ranch'.
According to Cerrone, when the UFC attempted to put the fight together, he approached head coaches Greg Jackson and Mike Winkeljohn to say he felt they should side with him over Perry due to his tenure at the gym and Perry's new member status.
Cerrone says Winkeljohn initially agreed, before calling him the next day to say the gym would be supporting and coaching Perry in the fight lest they "don't get paid." After that, Cerrone took his issues with Winkeljohn public and accused him of turning one of the best MMA facilities in the world into a "puppy mill" where random people could spar world class fighters.
While Perry never really became personally embroiled in the debate, Winkeljohn fired back and accused Cerrone of being disloyal and only showing up at JacksonWink in order to take fighters to his own BMF Ranch. Last Saturday, Cerrone beat Perry with a first round submission.
Now, as Perry looks to recover from an injured arm, it appears the man known as 'Platinum' isn't as interested in hitching his wagon to Winkeljohn's as you might have thought. Speaking with Submission Radio, Perry revealed that he and the coach never connected in a way he'd like, and instead Perry preferred learning from JacksonWink striking coach Frank Lester.
"I like Frank the Tank," Perry said. "Where ever he's at, that's where I'm trying to work my kickboxing. He's at JacksonWink, I'd love to come JacksonWink. I'm willing to help the people there as much as I can so I can get some help. But I'm also going back to Florida [to train jiu-jitsu with Julien Williams and Jacare Souza]."
"[Winkeljohn and I] just don't click like that. I want to be around Frank the Tank. I want to be around Julien Williams. Being around Coach Wink, I'm like ehhh. I like him, he's a great guy, but he knows that we didn't click like that. We didn't spend tremendous amounts of time together learning from one and other."
–
Comments
comments