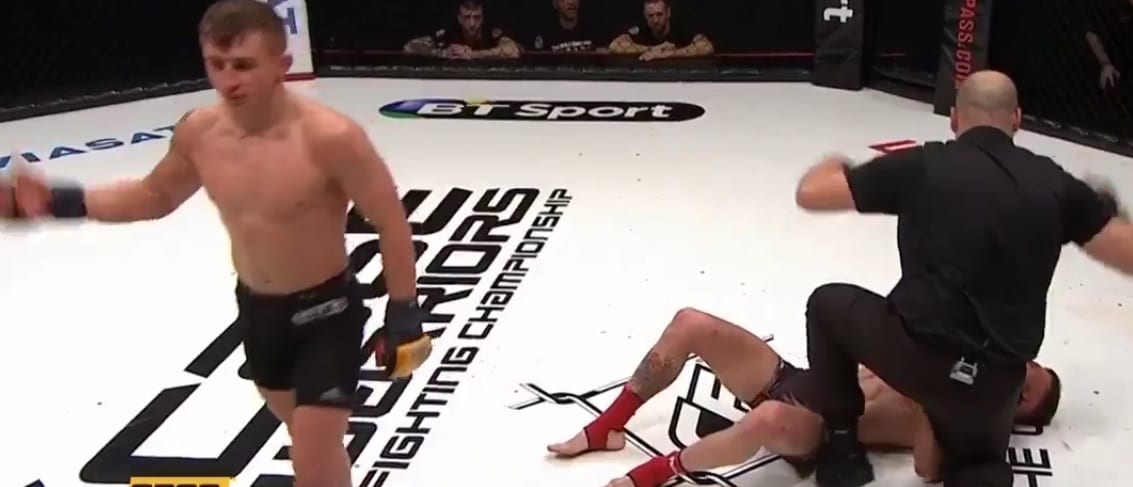 SBG's Blaine O'Driscoll, whose recent form under the Cage Warriors banner had earned him a title shot this weekend against champion Nathan Greyson, has been notified by the promotion that his November 17 flyweight title shot in Colchester, England, this weekend is off after Greyson informed both parties that he would be unable to make the 125-pound weight limit.
O'Driscoll's 6-2 professional record had served notice of his title credentials, particularly after a picture-perfect rear naked choke victory in his most recent outing against Aaron Robinson last May but now, five weeks after the bout was announced, it has been scrapped from the CW99 main event. Jason Radcliffe vs. James Webb is your new main event.
Cage Warriors president Graham Boylan revealed the news on social media on Wednesday, while John Kavanagh revealed his, and O'Driscoll's frustration.
Saturday nights 125lb Title between @NathanGreyson1 Vs @BlaineSbg is OFF. The Champion has confirmed he cannot make Championship weight & won't be fighting. @JRadcliffeMMA Vs @Poderosomma gets promoted to your MainEvent. #cw99 #mma

— Graham Boylan 🇮🇪 ☘️ (@GrahamBoylan) November 14, 2018
48hrs notice, not even gonna try. @BlaineSbg put his life on hold for months preparing for this. Can't make the weight then move up. https://t.co/xjIvOL9ZWU

— Coach Kavanagh (@John_Kavanagh) November 14, 2018
O'Driscoll, a growing star fighting out of SBG's HQ in Dublin, had previously said how much he was looking forward to the challenge of fighting for a world title in England, far away from his own backyard.
"You have 100's of people you are after selling tickets to, they are all coming to watch you fight. The pressure is on you to perform, you do feel that, and you want to perform for them when you're in your home town," he said to Extra.ie.
"Now I'm going in here, I do have a few people coming over for me, but nothing like it is in Dublin, and I feel like a big pressure has been lifted off me.
'I'm going to be going in relaxed, he's going to be feeling the pressure of that crowd, him having to preform in front of all of his friend, so the pressure is on him, not me."
Additional details remain scant as to exactly what happened but it is worth noting that Greyson is contradicting Boylan's version of events on his own Twitter page.
Some real shady shit going on @CageWarriors

— 7AVAGE (@NathanGreyson1) November 14, 2018
The Mac Life has reached out to Greyson for comment.
Comments
comments