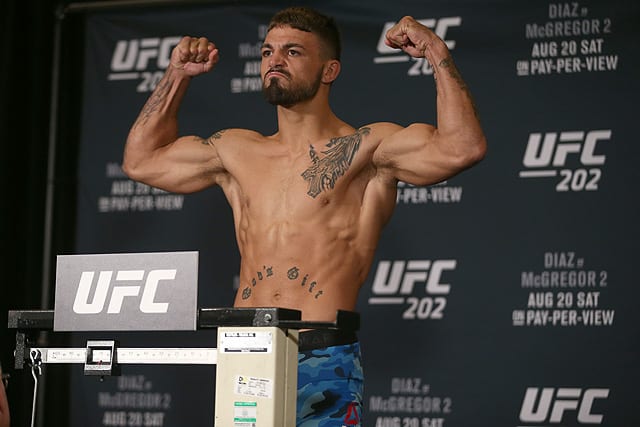 Mike Perry versus Donald Cerrone has all the potential in the world to be the right amount of crazy in mixed martial arts.
The duo represent two of the most supported welterweights on the UFC roster, and both are well regarded for their ability to put on entertaining fights nearly every time they compete. And with a few training sessions together now under their belts, the upcoming contest has even more of an intrigue surrounding it.
Certainly Perry is excited.
"Let's get this money," Perry said, speaking on Submission Radio. "Let's go. The guy was kind to me but the UFC does what they want. They want to set up a fight and I figure, s**t, a year or two from now somebody from Jackson-Wink probably gonna be trying to fight me so it is what it is. We fight, The question is, do you want to get this money or not? I fought his ass for free I might as well fight his ass for a hundred grand.
"I posted a picture of it today of me and him at UFC 202 media day. We knew back then that we were gonna fight some day so nothing to it but to do it."
At my Ufc debut I met @cowboycerrone and we knew then we were gonna fight some day. Hell of a business we're in ! Gonna get nasty in there ✊🏼 #UFC #MMA #RealFights #Fighting #CutTheCheck

There are no hard feelings, Perry says. It's just that Cerrone's successes inspired Perry to go out and get his own.

"He took me out shooting guns, he took me out surfing on his boat, it was really nice of the guy," Perry said. "Now he's probably like, 'Wow, look at this a**hole, he's gonna come try and fight me now and take everything I work for.' But he's had all this, all this money, all this time, and we in the fight business so I'm trying to get that. I'm trying to get a damn boat too! So if you got that money, you got that notoriety, I'm gotta get it. I'm trying to come take it so I can get me a boat so I can go surfing when I want."

And should Perry emerge victorious over Cerrone, there are bigger and better contests awaiting the fan favourite.

"I feel it's gonna be a crazier version, a bloodier version of the Paul Felder-Mike Perry fight," Perry said. "I think that depends on how I win. If I beat him with a vicious KO, that puts me top-15 and puts me in line for – if Till doesn't beat Woodley, then when I beat Cerrone we're looking at a Till-Perry fight, especially after the sparring. I know they want to see that. And if [Till] does [win], maybe one before the Colby fight or I could jump right to the Colby fight. If we go off of anger issues, Colby Covington is just a little bitch and I'll take that fight all day. But Till would be great out of respect and skill."

—

Comments

comments