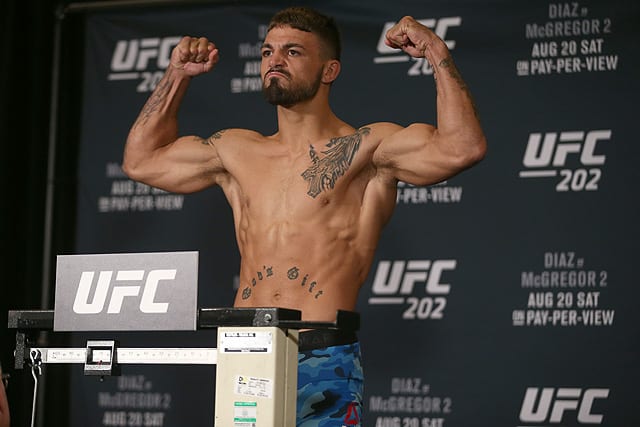 After securing his fourth UFC win, as well as second successive Performance of the Night bonus, Mike Perry wants a shot at the big guns.
'Platinun' has become known as one of the more exciting and unique fighters on the UFC roster since his debut with the organisation last August, wracking off knockout finishes in all of his wins. His one blemish came at the hands of Alan Jouban who earned a unanimous decision against him in December but nonetheless his power, which has seen him finish all 11 of his career victories via strikes inside the distance, has marked him out as a solid prospect at 170-pounds.
Perry intended to make a move up the rankings when he was slated to face former title contender Thiago Alves at last weekend's UFC Pittsburgh card but difficulties in traveling to the event encountered by Florida-based Alves on account of Hurricane Irma mandated the drafting in of a short notice replacement.
Alex Reyes could manage less than 90 seconds against Perry's onslaught.
As for what is next? If it's up to Perry, he wants former welterweight champion Robbie Lawler. Much like Perry, Lawler is known for his bite-down-on-the-mouthpiece style of brawling and the clash of these two styles would likely incite fireworks should they step into the cage together.
"I worked by butt of for this," Perry said post-fight after defeating Reyes. "It was meant to be Thiago in here tonight but he ran from me and now I think I deserve a top 10 opponent. I'll give you a name right now because I know your'e gonna ask.
"Everybody wanna see me beat up Robbie Lawler."
Lawler defeated Donald Cerrone in a typically wild brawl at UFC 214 and doesn't have a fight currently on his schedule. While it remains to be seen if the top-ranked Lawler would accept a fight with an opponent he is separated from by several notches on the official UFC rankings, it's probably fair to say that most UFC fans would welcome this bout with open arms.
Over to you, UFC matchmakers.
Comments
comments