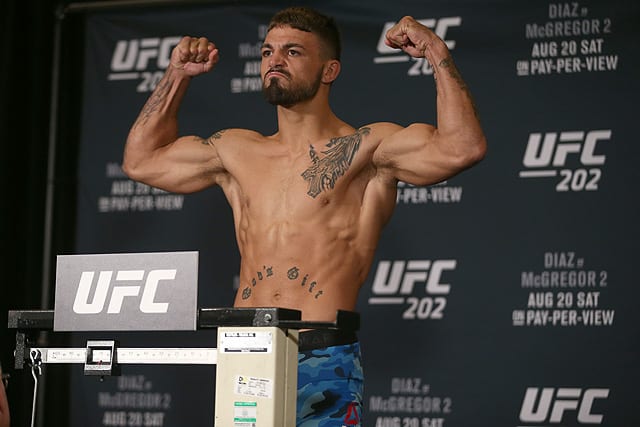 Mike Perry and Darren Till have had an interesting dynamic over the past couple of years.
The two welterweights had an famous sparring session, where Perry arrived ready to scrap and Till arrived ready to get relaxed after a language barrier over the pronunciations of spar and spa.
Now, with Till on the back of two losses and Perry on a win over Alex Oliveira on Saturday night, the man called 'Platinum' thinks it's time to run the spar back and actually trade shots in front of an audience.
"I want his spot in the ranking system, I think he's still in the top ten, they should definitely let me make a jump," Perry said, speaking on the Ariel Helwani MMA Show. "They just let Hermansson fight Jacare for a hump in position, so I'm gonna need to fight someone about eight positions above me. Six to eight, let's go. I don't care though, let me heal up, you gotta walk before you can run and I'm barely walking. I'm limping, hobbling around, let me walk a little bit and I'll be ready to fight. I got this urge to work."
Till's status in mixed martial arts is currently a little confusing, with the Englishman recently been arrested in Tenerife for allegedly stealing a taxi and destroying a hotel room. According to Perry, however, that shouldn't stop the clash from taking place.
"You out. You gotta be out if you deleted your social media," Perry said. "I hope you out of jail, I hope you bonded out and you get this shit taken care of, but you gotta be able to work on bond, you make too much money. The government gotta let you work. The government all about the money so let this man work."
–
Comments
comments