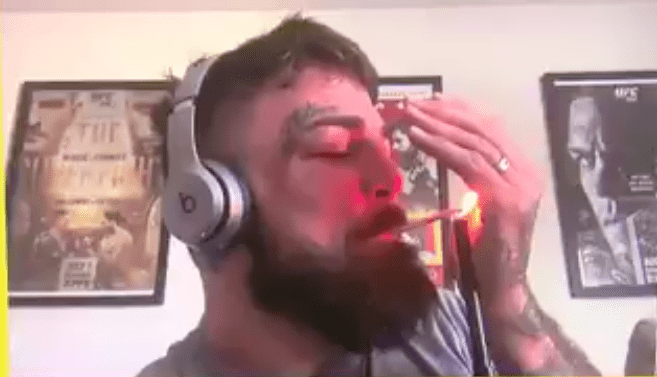 You only have to look at the surge in sales that CBD products have been experiencing lately to underscore the growing popularity which cannabis and its related products can have on pain management and recovery — just ask Mike Perry.
The UFC welterweight earned the 13th win of his professional career last weekend in Sunrise, Florida, outpointing Alex 'Cowboy' Oliveira though three rounds but, much like any fistfight worth its salt, all manner of bumps and bruises remain long after the final bell like some sort of combat sports hangover.
Luckily, 'Platinum' has everything he needs to aid his recovery. On Monday's edition of Ariel Helwani's MMA Show via ESPN, Perry spoke of how tough a challenge Brazil's Oliveira posed to him.
"Jesus, that dude is tough. I hit him with 10 right hooks and he was still standing there. My right hand hurts," Perry said (via lowkickmma.com) before lighting up what looks for all the world to be a joint live on air. The moment was captured and uploaded to Twitter for posterity courtesy of Jed I. Goodman.
Check it out below:
#HelwaniShow pic.twitter.com/YIiN0CTaSi

— Jed I. Goodman (@jedigoodman) April 29, 2019
–
Comments
comments