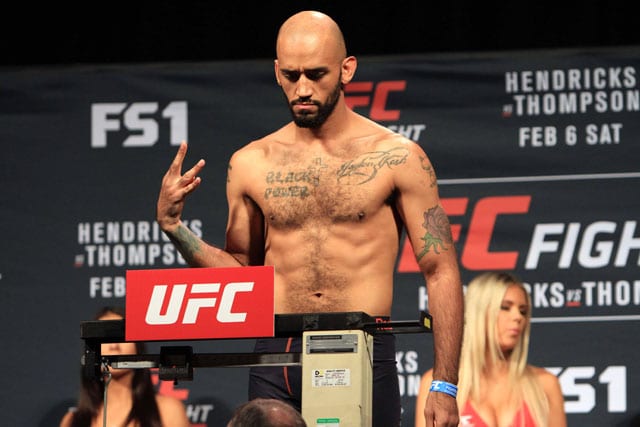 When Mike Jackson defeated CM Punk at UFC 225, he seemed to simultaneously open and close a number of doors in his fighting career.
While Jackson's victory showed he was on a significant level above the former professional wrestler, and as such brought him attention by other fighters, his lackadaisical attitude to finding a finish angered UFC president Dana White to such a degree that the UFC boss said he would never offer Jackson an opportunity to fight in the promotion again.
As such, the where of Jackson's next outing is uncertain. The who, however, might be a bit easier to find. Shortly after Jackson's win, WWE wrestler Daniel Bryan was asked during an Instagram live session if he could beat Jackson, to which he answered the affirmative.
Jackson didn't appreciate the sentiment.
"After the fight, I said what I had to do. I'm chilling right now, and then all of a sudden, people, Daniel Bryan, he said 'I could take him on the ground in a UFC fight'," Jackson said on the Slip n' Dip podcast. "Well Daniel Bryan, you'd have to get me down the ground first and I'm pretty sure I'd break his neck. That's just what it is. He has a weak neck. It's not a knock, that's just the reality of it.
"I don't know, if he had a weak chin or if he'd been knocked out a couple of hundred times or he had like half an arm or something; these are just facts. I'm saying he has a weak neck because he just does. No one is going to medically clear him for a fight.
"He makes his comment and I simply respond to it and now I'm the bad guy? I was like hold on, what did you expect me to do. Not respond to Daniel Bryan? Come on. So let's push him out the way because he's not about that life."
But if the fight with Bryan seems unrealistic, a contest with Bellator welterweight Aaron Chalmers seems a little more likely. Unlike Bryan, Chalmers has competed as a professional on a number of occasions, and has shown an aptitude for fighting far beyond that of Punk.
According to Jackson though, he and Chalmers remain on different paths, mostly due to their employers.
"I literally don't know who this guy is," Jackson said. "I just said 'hey man, you could've at least tagged me so I know where you're coming from'. Then it turns into I called him out, but I don't even know [who he is].
"All I said was 'you could've at least tagged my name' and now I'm the bad guy, again. He was then like 'you either want it or you don't,' but I didn't even call you out. I'm just trying to figure out why you didn't tag me initially. That was it.
"People are like 'this guy is calling you out,' but we're in two different promotions. He's in Bellator and I'm in the UFC so I don't understand why people are calling me out when they aren't even in the UFC.
"They know where I am as far as my position in the company. I don't understand why anybody is calling me out, fighting me doesn't do anything for your career outside of publicity."
Comments
comments