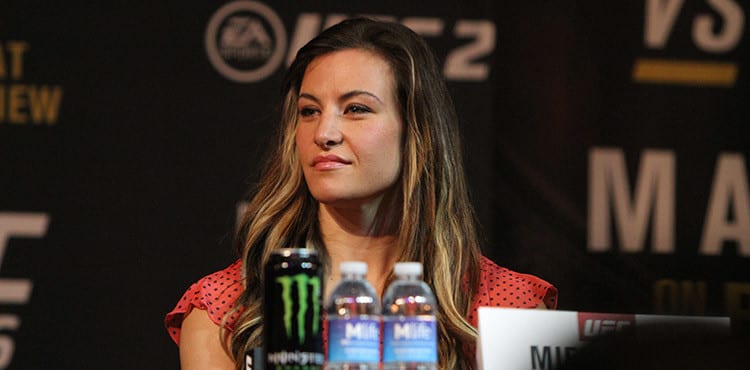 Count Miesha Tate out of the names who would like to see a Ronda Rousey vs. Cris Cyborg fight at this point.
Earlier this week, Ronda Rousey's longtime coach Edmond Tarverdyan appeared on The MMA Hour, where he stated that should the former women's bantamweight champion take one more fight in the UFC, he'd like it to be against Cyborg.
"That's the one," Tarverdyan said. "I want that fight. When I trained Ronda, I know Ronda could beat Cyborg. I know that. Cyborg is too slow. … If injuries weren't there and everything was where it was, we would take that fight and I'm telling you she's too slow for us. And Ronda will beat her. Ronda needs a challenge that she really needs to be like this person is no good and I need to prove something to the whole world. That's how Ronda works good."
At one point, a fight between the two could have been the biggest contest in mixed martial arts history. The two went back and forth through the media on numerous occasions, consistently getting more personal. While Rousey ruled the 135-pound division, Cyborg appeared to be the only credible challenge, and combine that with the bad blood, any meeting would have been a huge affair.
However, despite Tarverdyan's suggestions, Cyborg appears to now have no interest in a Rousey fight. Following Tarverydan's comments, the Brazilian posted a statement to her website, where the UFC women's featherweight champion revealed she felt Rousey's time at her level was over, and instead the two could instead meet in a professional wrestling match.
"I heard Ronda Rousey's coach said on MMA Fighting that he would like to see her return for one more fight…against me…so I thought I would share my thoughts on this," Cyborg wrote. "If Ronda is going to return for only 1 more fight I think it should be against Miesha Tate. When I wanted to fight her it was because she was at the top of her game and she had all of the confidence in the world. She had not been KO'd twice in a row and some people were actually saying she could beat Floyd Mayweather in a fight.
"Both of us are now at different chapters in our careers and for me that chapter is finished."
For Tate, a long time rival of Rousey, she had nothing but respect for Cyborg's suggestions. Speaking on her podcast MMA Tonight, Tate gave Cyborg credit for taking the high road, while criticising Tarverdyan for what she felt was an attempt to capitalise on the Rousey name one last time.
"I'm gonna give Cyborg a round of applause, because she wouldn't look more like a bully than if she took that fight with Ronda," Tate said. "That would be ridiculous. It's just nonsense to even think about that. I cannot believe that Edmond would suggest something so asinine.
"It's just kind of silly. I think Edmond just wants another payday so he can try to pay off his bankruptcy issues, because Jiminy Christmas. Poor Ronda. I'm not her biggest fan, but I wouldn't even want to see that fight. I'm not her biggest fan, but I wouldn't want to see her get slaughtered by Cyborg at this point in her career, either.
"It's not appealing. That's not what this sport is about. It's about great competitive matchups and I just don't feel like it's even fair to ask for something like that. If you were looking out for your athlete, why would you do that?"
Comments
comments