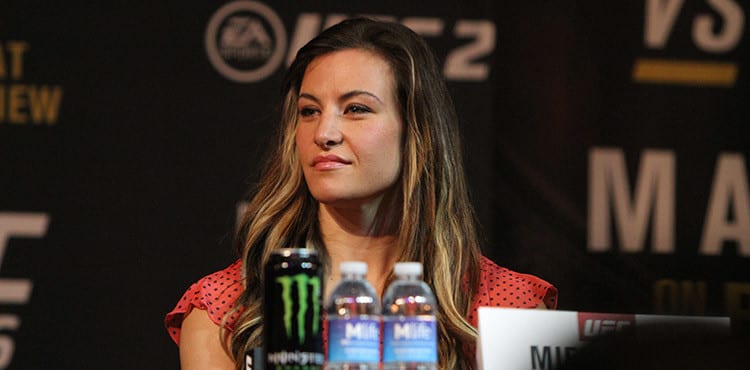 The early days of women's MMA in Strikeforce and then the UFC was largely defined by the rivalry between the two most dominant female fighters of the time, Ronda Rousey and Miesha Tate. 
Rousey would come up trumps in both of their fights, taking just less than a round to sink in an armbar submission before earning the same manner of victory in a title fight in the UFC 18 months later — but this time in the third round.
Tate would ultimately dethrone Rousey's eventual conqueror, Holly Holm, to win the world title she had chased through much of her career but hasn't won a fight since, dropping the belt to Amanda Nunes and also coming up short in her next fight against Raquel Pennington in New York in late 2016, and announcing her retirement soon after.
However, having recently affirmed her commitment to return to the UFC where she will face Marion Reneau, Tate says that any potential trilogy fight with her old rival Rousey would be entirely different to the first two chapters.
View this post on Instagram
"There's not a doubt in my mind it would be different, for sure," Tate said to Sirius XM via MMA Fighting. "I'm just so different myself. I don't know how to explain, I just want you guys to see it on July 17. Just things that I didn't realise and I didn't compute before as a fighter that I feel like I'm finally picking up at this stage in my life. I don't know, call it maturity, call it maybe sitting back observing this sport and watching and not being under the pressure to compete all the time has allowed me to kind of look at this in a more cerebral way.
"I used to be very much a brawler and tough. I still have the mental toughness, I still have the fight but I feel like for the first time I'm tapping into my fight IQ and really going to go about things in a different way than I did before, at least to start fights. Fights are fights, right? It's liable to get crazy at any point but I'm much different than I ever was before."
A third fight with Rousey, though, appears unlikely after Dana White rubbished suggestions that Rousey could be tempted into a UFC return to follow her old foil Tate. But whichever way the division shakes out, Tate says she will be in the conversation at the summit of the rankings.
"I will be the second-most hunted woman in the division, I feel like that for sure," Tate concluded. "The champion will be number one but it seems like women are always interested in fighting me."
Comments
comments