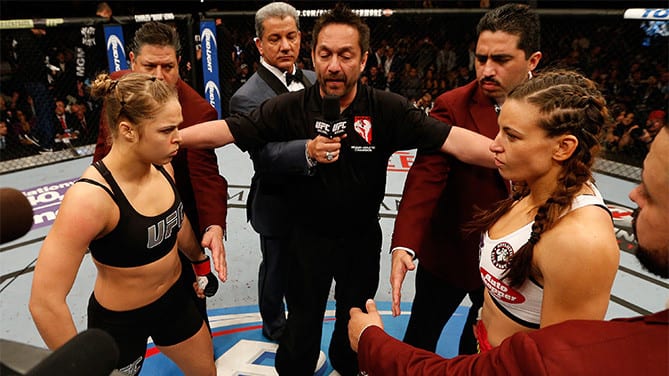 When Ronda Rousey responded to criticisms of the way she handled media following her last couple of UFC appearances, fans were left unimpressed.
The former UFC bantamweight champion — famous for her media blackouts — went on record recently to say she felt she'd been misrepresented too many many times by the press, and therefore deemed them of no longer deserving to hear her speak.
"We live in an age of trial by Twitter," Rousey said at a recent Q&A. "What is really gained by stating opinion on anything? It whittles people down. It gets cut and pasted 10 times and it's in (a) headline. [Celebrities] keep more and more of it to themselves. Why should I talk? I believe hearing me speak is a privilege, and it's a privilege that's been abused, so why not revoke it from everyone? I don't believe public criticism beating you down is the right thing to do."
Well, it turns out it wasn't just the fans who felt Rousey's comments weren't an example of great reasoning. Old rival Miesha Tate wasn't very impressed either.
"People are gonna say I'm being a hater but I'm gonna be honest, I think it's a bit ridiculous, and I think it's very above herself," Tate said, speaking on MMA Tonight. "This kind of attitude, this is where we butt heads, this is the point where we don't agree. Sometimes Ronda will say something that's humble and I'll be like, 'Hey, that's a great comment'. This is asinine.
"I think this is not the kind of attitude that you should have when you're someone who is in the position of Ronda. Ronda's very fortunate. Granted, she's worked very hard but there's a lot of people that work really, really hard and don't get to that point of stardom or financial benefit or whatever it is. It's a combined effort. To say, 'It's a privilege to hear me speak', it just sounds rude and full of herself. She really sounds full of herself."
"This is asinine … she really sounds full of herself." — @MieshaTate on Ronda Rousey saying hearing her speak is a privilege pic.twitter.com/DV9wT5nwQd

— MMA on SiriusXM (@MMAonSiriusXM) May 3, 2018
Of course Tate and Rousey's rivalry is one of the most famous and heated in UFC history, with the pair repeatedly clashing in both the Octagon and the media throughout Rousey's famous championship run. Throughout their feud, the pair are often found on the opposite sides of most debates, but this time Tate believes it's more about Rousey needing to be a decent role model to young women.
"I don't see it as a privilege to hear her speak," Tate said. "She owes it, sort of, to a degree, to her fans. Without the fans, and the people who care what you say, what you say doesn't matter. So when you say something like that I feel like it's a burn and a slap in the face to the people who love and support you. She has a lot of young ladies that really look up to her and I just don't think this is the type of attitude that a role model should have because it seems a bit selfish, it really does.
"I think she should be more grateful for being in the position that she's in and everybody who has genuinely loved her throughout her career than to turn around and say, 'It's a privilege to hear me speak.' I think it's a bit ridiculous."
Comments
comments