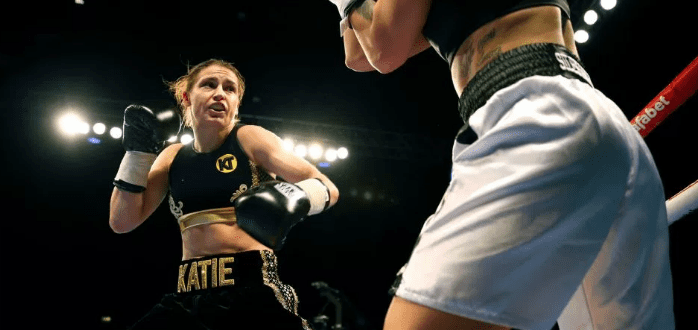 Could we see women's boxing  Katie Taylor swap the boxing gloves for the Octagon one day? Well, it's hardly a definite, but Taylor and her promoter Eddie Hearn aren't going as far as to rule it out in the future. 
The pair were asked about the possibility of transitioning over to mixed martial arts prior to today's Bellew vs. Haye II weigh-ins. And, according to Hearn, while there are definitely different techniques to master, a match up with former UFC bantamweight champion Holly Holm still interests.
"Obviously, it's different kinds of skills and different kind of disciplines," Hearn said, speaking to iFL TV. "Katie's a boxer, but I tell you I bet [she'd] be mean at UFC as well. But Holly Holm's an interesting fight, because Holly Holm is actually a boxer."
"I definitely can't fight on the ground — well, I've never been on the ground, but who knows? If the money's right," Taylor replied with a laugh.
It's not the first time Hearn's mentioned an interest in putting Taylor and Holm together. Last year, following the huge success of the Conor McGregor-Floyd Mayweather cross-sport contest, he stated that a Taylor vs. Holm fight would make plenty of sense — particularly if the money was right.
For her part, Holm has gone on record as saying a return to boxing doesn't interest her. Should Taylor continue her success inside the ring, however, then demands to see a crossover contest of some description could be too much to ignore.
.
Comments
comments