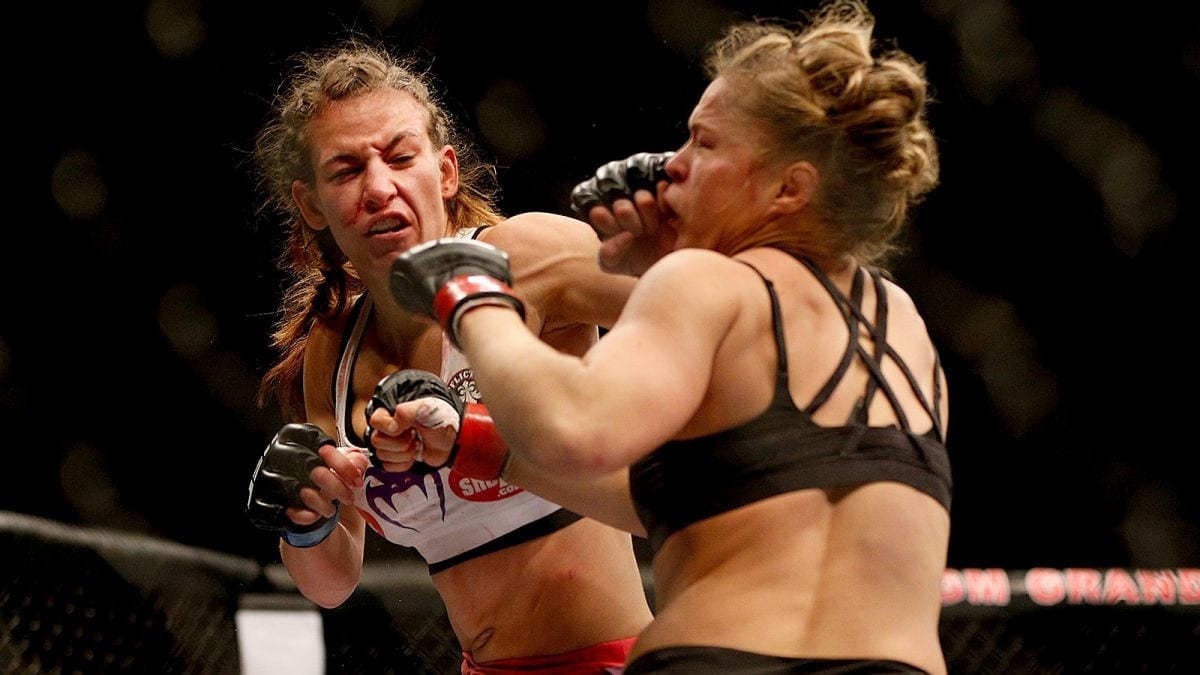 Miesha Tate knows Ronda Rousey more than most, athletically at least.
Tate, the former UFC bantamweight champion, spent four rounds across two bouts in the cage with the Olympic judo silver medalist before losing both via armbar submission in 2012 and 2013 before claiming the title by submitting Rousey's conqueror, Holly Holm, at UFC 196 in 2016.
Both fighters ended their MMA careers after suffering two defeats on the bounce, Holm to Amanda Nunes and Raquel Pennington and Rousey to Holm and Nunes, and both have become knowns as definitive chapters in the other fighter's career given their rivalry which defined the early days of the women's 135-pound division.
Of course, Rousey traded the UFC's cage for the WWE ring last year and has experienced success there but as she takes a step back from that aspect of her career, Tate has weighed in on her perception of Rousey's athletic career — and says that 'Rowdy' isn't satisfied with her MMA run after Rousey's implication that fans don't need to hear her own thoughts on her legacy.
"It's not necessarily something I appreciate about Ronda, but when you talk about her legacy this does sum it up in one quote, really. It's that she knows she has value and interest but she also doesn't really give a shit what anybody else wants to hear," Tate said to Sirius XM Radio via MMAFighting.
"She's not entirely an open book. She's not there entirely for the fans, selflessly. Ronda has always been about Ronda so it doesn't surprise me. She's continuing to be exactly how she's always been. Again, not wrong, but when I listen to this, she almost sounds emotional. I don't think she's entirely happy with her legacy. The point that Ronda makes about us not deserving to hear it and about the vulnerability, I think that it speaks again to point that she left the sport worse than she entered it."
Tate continues, saying that Rousey's ego is such that is hasn't allowed her to be truly honest with herself in regard to her athletic achievements.
"She has that inflated ego, she does have all of those things," she said. "I talk about myself and we're polar opposites, that's why we never really got along.I started my career off a loss. I started my career with the humble approach, so I'm a very open book. I've got nothing to hide. I win some, I've lost some, I don't have the need to put myself on a pedestal or not be an open book. I enjoy being transparent because I hope that somebody can take something away from my gains and my losses. I've lost horribly in front of the entire world and so did Ronda.
"She wants to be the hard Ronda Rousey, the one that was back in 2014," Tate concluded. "I always said winning is easy. You don't have to make any adjustments. You don't have to make any changes. You're on the top of the world, you're doing great. When you lose, that's when you see what you're really made of."
Comments
comments