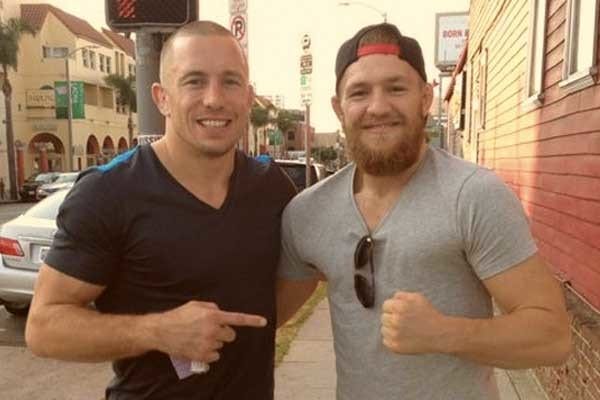 Miesha Tate, the former UFC women's bantamweight champion, has said that she would favour Conor McGregor should a superfight between the Irishman and Georges St-Pierre ever come to fruition.
Canadian legend St-Pierre is scheduled to make his return to the UFC after a self-imposed four year hiatus in November where he is expected to face Michael Bisping for the Brit's 185-pound title. Should GSP win the title in Madison Square Garden on November 4th he would become the latest fighter to have held championships across different weight categories (though McGregor remains the only fighter to achieve this simultaneously). According to himself, St-Pierre is contractually obliged to face interim middleweight champion Robert Whittaker should he beat Bisping but in this era of superfights, one that would almost surely generate massive fan interest would be a bout between St-Pierre and McGregor — two of the sport's most popular ever fighters.
And as Miesha Tate said to MMA Tonight on Sirius XM Rush (as reported by MMAFighting), she is through underestimating McGregor if the fight does indeed get made.
"Conor McGregor, I've underestimated the guy a number of times, thinking he wasn't going to win some of the fights that he won and he did it," Tate said.
"The man is truly in a league of his own. When it comes to his game planning, when it comes to his trash talking, when it comes to getting inside people's heads, nobody does it better than Conor McGregor. So I absolutely would not count him out in a fight like that.
"I think the speed favors him. I think he has great striking and I think the fact that GSP's been out for so long, I think Conor McGregor can put together a strategy to beat pretty much anybody and I think the matchup actually favors Conor.
"I feel almost bad saying that because I've been a huge GSP fan for a really long time. He's perfect when he fights. Maybe not the most exciting fighter you've ever watched but he's almost perfect and that's so hard to do. If you've been an athlete in any sport, to have a perfect game or a perfect match or a perfect bout, it almost never happens. You watch him go out there and he's pretty much perfect in all of his fights. He never waivers from his strategy and he's like a robot, like somebody's controlling a controller somewhere and he's just doing exactly what he needs to do to get through those fights. But I think with this one, Conor's just so hard to beat and he's so hard to get around mentally. I think the speed actually, being the smaller guy, does favor Conor."
Though he has been away from the sport for a prolonged spell, St-Pierre hasn't tasted defeat in mixed martial arts since losing to Matt Serra ten years ago. Could Conor McGregor end another decade-long undefeated streak owned by one of mixed martial arts' most enduring legends? We will have to wait and see.
Comments
comments