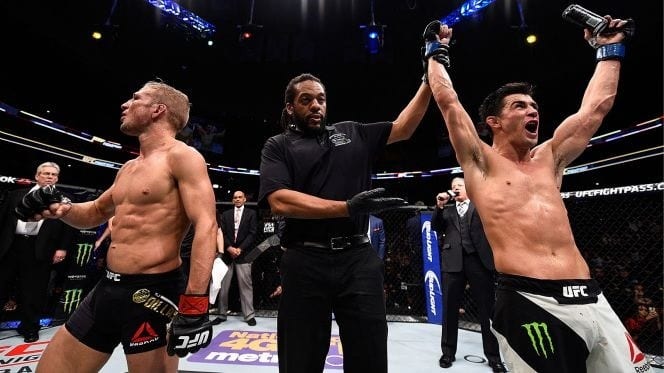 Former UFC bantamweight champion Dominick Cruz will be a very interested spectator when Cody Garbrandt defends his 135-pound title against T.J. Dillashaw at UFC 217 in November.
Cruz has faced both fighters during his own title reign, holding a win over Dillashaw and a loss to Garbrandt, and will happily renew hostilities with either of his former foes should the dreaded injury bug strike in advance of the November 4th clash. Garbrandt was initially slated to face Dillashaw earlier this year but a back injury suffered by the champion put paid to those particular plans. However, if a similar scenario occurs in advance of the rescheduled bout in Madison Square Garden Cruz says he would happily step in.
"I'm always training. I've been training this whole time," Cruz said on UFC Unfiltered as reported by MMA Mania.
"For me the title shot is important. I've earned that shot, I held the belt longer than anyone in this division and I help build the division. I gave Cody that shot when I could've fought T.J. again. I have been doing this to build the division. I brought another guy up and fought him for the title because I wanted another guy in the mix. We needed that for the division. If any one of these guys gets hurt I would like to slide in and challenge for the title, 100-percent."
As for which of these fighters he would prefer to face? Cruz has his eye firmly fixed on the current champion.
"I would prefer Cody to win, just because I'd like to fight him in a rematch for the belt. I think it would be a really sick fight and it would be good for me."
Comments
comments