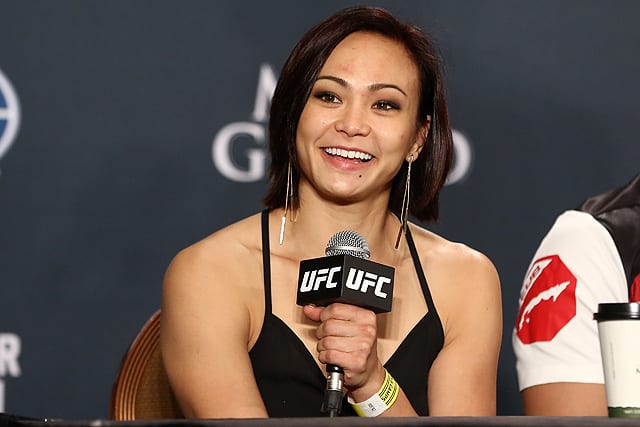 Michelle Waterson knows the task of becoming the UFC women's strawweight champion isn't going to be easy. 
As the 'Karate Hottie' heads into he biggest fight of her career against Rose Namajunas this weekend, it's widely thought that the winner of the contest will walk away as the rightful next challenger for the 115-pound title. 
At the moment, the champion is of course Joanna Jedrzejczyk, who faced Jessica Andrade at UFC 211. 
While Andrade is a worthy challenger, Joanna Jedrzejczyk has defeated any contender she's been matched up against, and the bookies favour her to do so again in her next outing. 
For Waterson, that raises the prospect of being put up against the dominant Pole in the near future — an intimidating task undoubtedly. Not that Waterson is shying away from the challenge. 
My goal for 2017 is to fight for the title," Waterson said, speaking on MMA Fighting's MMA Hour. "I would like to be the first [to beat Joanna]."
But, before she'll get that chance, she'll need to fight and defeat a game Namajunas. While she'd previously angled for a title shot, Waterson ended up being paired with the 24-year old after Namajunas pushed for the contest.
"We're excited with whatever opportunity the UFC gives me," Waterson said. "I think Rose is an excellent matchup. Both of us fought Paige, and Rose is ranked higher than me, so if there's anybody that I need to fight to show the UFC I'm ready for the title shot, I think Rose is a great opponent."
—
Comments
comments