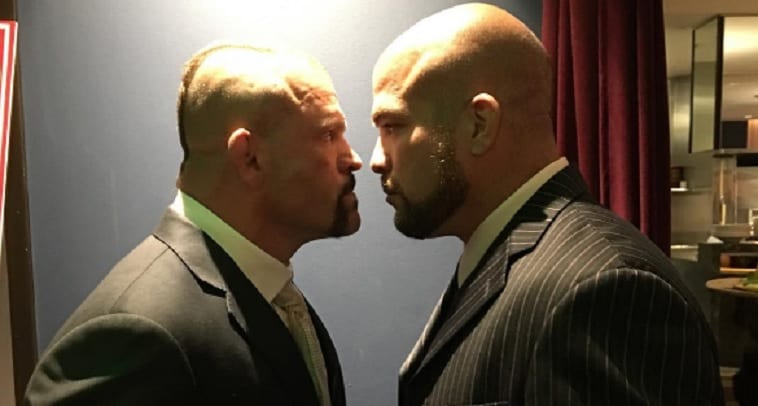 Michael Rapaport is well known for being an outspoken fight fan. So perhaps when he shares his thoughts on the upcoming contest between Chuck Liddell and Tito Ortiz — a controversial meeting under the new GoldenBoy MMA banner — Rapaport could be tapping into the attitude of casual fans everywhere.
According to Rapaport, who spoke recently with Submission Radio on a number of topics, the fact Liddell is coming out of retirement to meet Ortiz at such a late age is evidence combat sports doesn't take good enough care of its legends.
After all, he says, fighting is a young man's game.
"I want the fighters to all make money, I want them to all be taken care of, I want them to all be respected, I want them to have healthcare and unions and whatever the fuck they need to do to not be fighting at 50," Rapaport said. "Because Chuck Liddell and Ortiz, the glory days are over. 50-year-old men should not be doing that. Your body is not… I don't give a fuck about 'oh he's a great athlete, he takes care of himself'. This is not what a 50-year-old man – I don't care what you do or how you eat – this is not what you plan to be doing at 50. You're only doing this for money. It's not good, it's not safe and it's just… it's not dignifying. Not that they're not dignified and not that they don't have dignity, but the fact that they're having to do it is not dignified for the sport. You know what I'm saying? And whether it's the UFC or these other side places, they shouldn't be doing it.
"They shouldn't have to do it. There should be a forum for those champions. UFC should learn from boxing to figure out a way to help implement a system – I don't know what it is – to take care of these fighters so they're not homeless, so they're not fucked up, so there's some kind of system in place. Learn from boxing."
—
Comments
comments