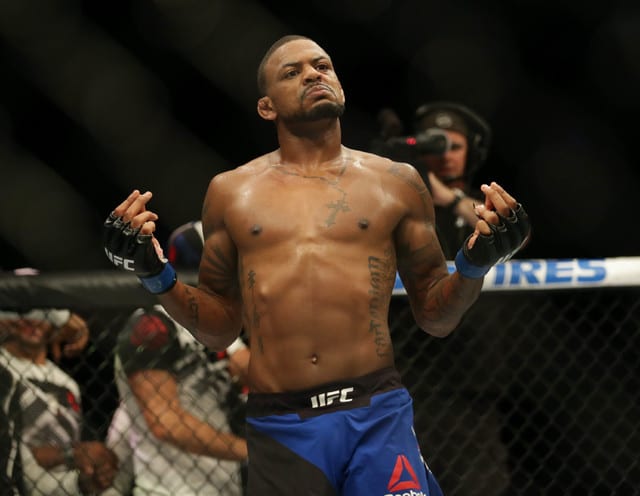 After suffering four defeats in his last five bouts in the 155-pound division, veteran fighter Michael Johnson has stated that he intends to 'test the waters' in the UFC's featherweight division — and has taken aim at former champion José Aldo.
Johnson, who has dropped two straight bouts at 155-pounds to Khabib Nurmagomedov and Justin Gaethje, has faced a rogue's gallery of top competition in his recent fights but stated to the media in Rotterdam last weekend that he always intended to drop to 145-pounds at some point in his career and sees now as an ideal opportunity to do so.
"There's always been a thought in my head to drop down," Johnson said to reporters at UFC Rotterdam. "Regardless of how I was doing in this division, win or lose, that was kind of a plan of mine – to drop down to 145, test the waters.
"Come back up to 155, maybe, because I fought everybody in the top 10 of the 155. I fought numerous people. I just wanted to see new changes, new faces and to see how I react. It has nothing to do with the fact that I lost to Justin. Even if I would have won, 145 still would have been a thought in my mind."
Johnson, who is still a ranked contender in the lightweight division, says that José Aldo is the ideal opponent for his first featherweight fight. Aldo is coming off a loss in a title bout to Max Holloway earlier this year — just the second of his entire UFC and WEC tenure.
If that particular bout doesn't come to fruition, Johnson says he'll take the next guy in line.
"I think that's maybe detrimental to my career, maybe hurts it a little bit that I always go for the toughest fight. But my first fight at 145, Aldo is a former champ, he's one of the best in the world – always been.
"So that's one guy that I would love to fight. I'm not in this sport to fight the guy that's OK. I want the toughest guy. I want everybody that says he can't be beat.
"So, fingers crossed, hopefully a big fight comes at 145. Because in order for me to make that drop, it has to be a big fight. It's going to be quite a bit of weight for me."
Comments
comments