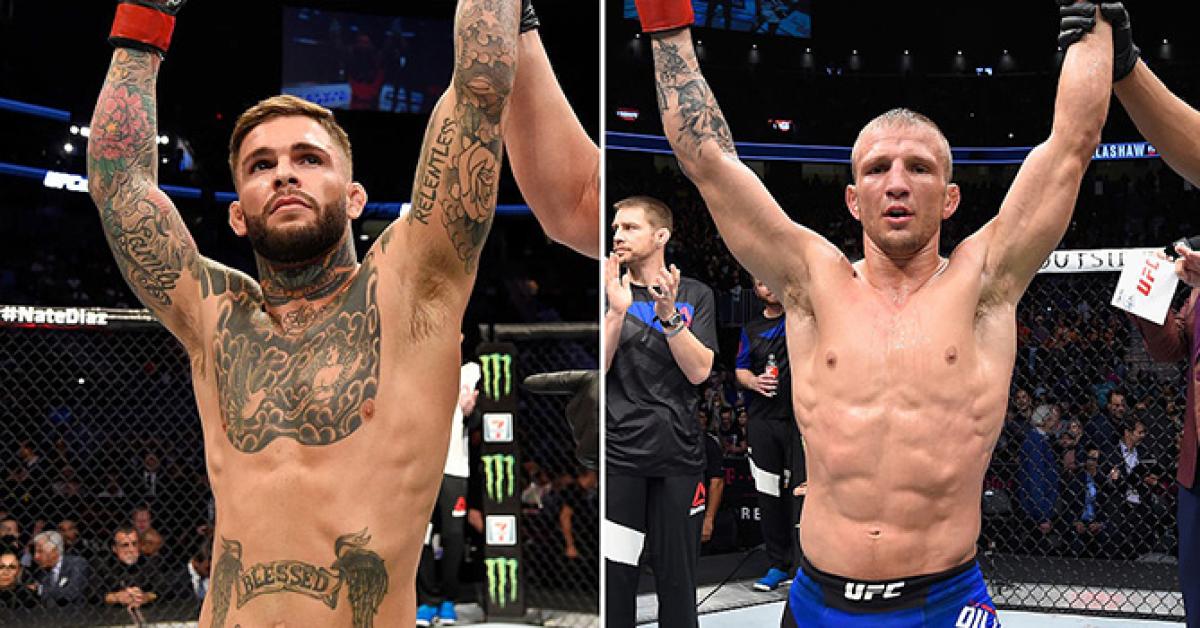 The rivalry between Team Alpha Male and its former charge T.J. Dillashaw continues to burn.
Dillashaw will meet current UFC bantamweight champion Cody Garbrandt inside Madison Square Garden at UFC 217 in the latest installment of a feud which runs a whole lot deeper than simply over a championship belt. Ever since leaving Alpha Male to continue his training with former TAM coach Duane Ludwig, Dillashaw was accused by his former colleagues of disloyalty — a back and forth which propelled a season of The Ultimate Fighter and seemingly endless back and forth jibes between both parties.
With their fight slated for a little over two months from now you can expect the tensions to heat up — and that is precisely what happened when Garbrandt and Faber appeared on a recent episode of The Joe Rogan Experience podcast, where both men stated that Dillashaw was overly aggressive in practice and would frequently injure training partners. Some, they claim, deliberately.
"T.J. was never the best teammate," Faber said as reported by MMAFighting.
"He would try to hurt people," Garbrandt added. "He's a very competitive guy and he has a temper. Cheap shots at the bell, in boxing he'd knee you. Dirty shit. Just dumb shit."
"There's no secret about T.J.," Faber continued. "We talked about it when he was still on the team that he had to be reeled in a little bit. He's got a temper. [We called him] Killashaw, Dillashank. It was his thing."
Perhaps more seriously, Garbrandt went on to allege that Dillashaw is the reason that their teammate Chris Holdsworth has been forced to sit out several years of his career due to concussions symptoms.
Holdsworth, winner of season 18 of The Ultimate Fighter, hasn't competed since 2014. The 6-0 fighter was tipped by many analysts as being a future champion but there is currently no timetable for his potential return to active competition.
"The super-competitiveness – I'm competitive," Garbrandt said. "I don't want to lose. I'm fighting tooth and nail not to get taken down or win that round. It's just [the dirty stuff] at the end of the bell, knees – that's why Chris [Holdsworth] is out. He kneed him in the back of the head. Concussions. That's the truth.
"It was him and T.J. going. I remember distinctively, Duane [Ludwig] used to come up to Chris and be like 'Hey, Grasshopper, T.J.'s fighting, can you take it easy on him?' Chris is a killer, dude. Chris is fucking him up. Everybody [else too]. Chris is an animal. And I guess Chris choked him out and T.J. got up and fucking kneed him in the back of the head when he was down."
"It happened twice in practice like that," Faber added.
Comments
comments