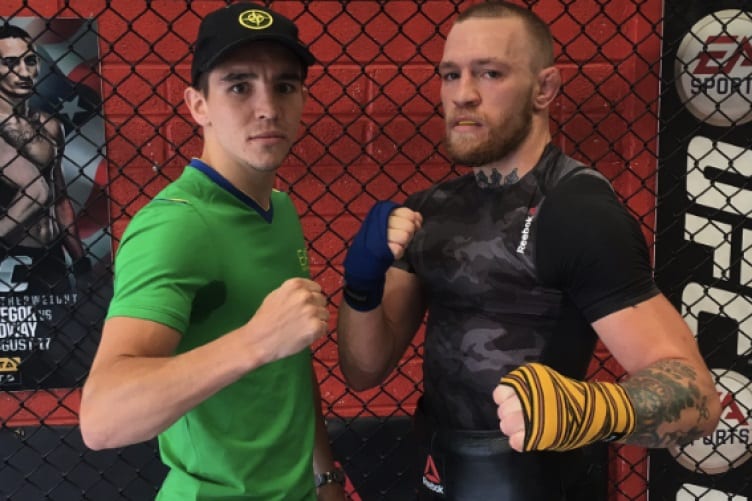 Michael Conlan makes his second professional boxing appearance on Friday where the Irish Olympian faces the 4-4 pro Alfredo Chanez in Chicago. 
Conlan, considered by many pundits to be one of the most promising prospects in all of boxing, is a massive 1/500 favourite to win as he gathers experience in the professional ranks before a seemingly inevitable world title shot one day down the line.
Ahead of the bout, the Belfast man met with reporters and, as you might expect, a lot of the focus of attention was on Conlan's friend Conor McGregor and his preparation for the so-called 'Billion Dollar Fight' with Floyd Mayweather.
"I've never sparred him but I did train with him," Conlan said of watching McGregor in the practice room. "I've seen him work on the bags and work on his pad work and how he moves in the ring and, you know what, I was impressed."
Conlan's professional debut took place in Madison Square Garden on St. Patrick's weekend of this year, a fight in which the Belfast pugilist asked McGregor to carry the Irish tricolour to the ring for him in the scene of his historic win over Eddie Alvarez months prior.
"I've seen MMA fighters doing boxing skills and you're saying, 'They're OK but they're not going to be a boxer'. But Conor definitely has the skill," Conlan continued.  "He was a good boxer as an amateur, he was in the national championships a few times. He has great experience. Ireland's amateur boxing team is very tough and very strong, so he had good learning there."
Conlan says that he's a relative newcomer to the world of mixed martial arts, and while he says he's not interested in crossing over sports from boxing to MMA in future, he has a deep level of respect for the sport and its competitors.
"I do enjoy watching it. I'm going to be honest, I only started watching MMA because of Conor McGregor — and that's the truth. Since Conor's been in it I've been paying a lot more attention to it and watched a lot more fights. I can say he's made me a fan.
You can watch the media scrum in full below.
.
Comments
comments